Meet the artist behind Waxwaifus
So this artist has worked with one of the biggest artist of Wax and worked on one of the most enjoyable project on Wax she has created on ETH and still does but is dropping now on Wax. Welcome Ghostcam and her project Waxwaifus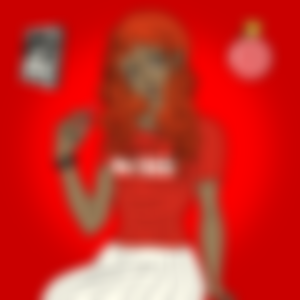 Gud tag or hello
Hey hey
How you today?
I am fine, stupid fiat mines, hehehe, hbu?
Yea sadly in the fiat mines myself trying to look busy . How did you crypto journey start?
Hm. A friend of mine IRL is one of the first people I know who was into ETH and BTC, he started mining in like 2013/4 or so. He told me about it someone in 2017 or 2018 iirc and I started to buy in a bit and flip. There are these presale pages, I invested in MATIC, for example, before the whole NFT hype there started, which actually kept me going, tbh. I totally forgot about the one thing I did, and this was WAX. When I discovered my bag WAX was already below 1$ again and I did not want to flip but to investigate more - they actually had developed an ecosystem. NFTs on ETH were a flipper thing only for me, so WAX was a new experience with all its facets and possibilities. And communities, god, all these people! It was a crazy moment for me to realize there's more than just money. Now it gets sentimental hehehe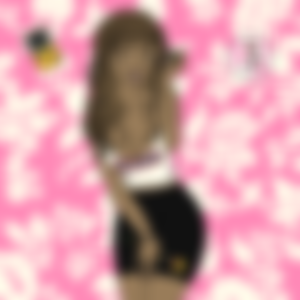 The time around Christmas there was this freerice thing going on on reddit, I wanted to support them and checked who they interact with. I saw Banano and was super surprised because I had left their ecosystem but kept folding for some months. I bought a ton of stacks and gave them away. Got in touch with Ovi who invited me to cryptomonKeys. I was bummed. All these people just wanting to help and be nice. I had a hard time irl at that time, my mum has cancer and at that time everything pointed to her not making it. A welcoming atmosphere was something I never had seen before. But cryptomonKeys is special. Was January 2022, iirc. I lurked on JungleTV for like 8 weeks before I joined the Discord hahaha In March or so I became Nifty and last June Super and community manager.
So your super involved with Banano community . Where you creating art before you decided to create NFTs?
Oh, less with Banano, more with cryptomonKeys. I always drew but also kept it to myself or gave it away when being asked for it. Soggy encouraged me to try, so, after a while I made NFTs on ETH (still do, btw), but I draw for cryptomonKeys since last year. Made quite a few stacks and now cards (3 out so far). I feel very honored to be allowed to draw for cryptomonKeys, tbh, it marked the beginning of my creative NFT journey because my first thingy ever is still there, in the contest submissions channel lol I never enter contests, I always give my stuff away and I am enjoying creating art for others. Guess, that's the secret hehehe
What made you start your own project on Wax?
I have seen what is possible if people stand together, on cryptomonKeys when we avoided the takeover of Neri, but also in the ETH space with HUNNYS giving knowledge and support to everyone, holder or not. I have seen projects that want to support others but over-complicate things because of ETH being ETH, just to name an example, but WAX with its ecosystem designed for creators and devs is perfect to try to bring the best of both worlds together. So, after seeing the best intentions fail on greed and the best ideas fail on support, I decided I want to help to change that. I am someone who really enjoys supporting others and seeing them flourish. I watched the space for about a year now, without diving into anything specifically, just to get a feeling. And I felt, people are tired of rug pulls and being exit liquidity. WAX provides everything to build a community, to connect projects, collectors, traders and creators. That is what I wanted to do: Build something that gives back to everyone, if possible, as long term as possible, and as wholesome as possible, to bring the good aspects in us to light. Because there are tons of them. And I like to draw things that make people happy.
Tell us what is the inspiration behind your NFTs?
I like to make beautiful and cute things and sometimes it is hard to do both at the same time. But the waifus can be everything, cute and sassy, funny and wholesome, it is something literally everyone enjoys, which makes me happy. I always loved to draw females, there's a certain aesthetic in their shape that I find very appealing from a creator's perspective. But of course, there are so many different aspects of beauty, it is a bit like a flower field with millions of them, and every single one is beautiful. So, I tried to create a variety of female characters that can represent all of us, from all places. I am listening to the community and what they appreciate and cherish and implement this in the artworks I create. Guess, my main inspiration are humans then.
You have a new PFP coming out how many NFTs will be in it?
This first drop will contain 5 out of 26 Waifus, Ariadne, Beatrix, Chloe, Delia and Elaine, with 385 unique PFPs each, 1925 in total. 1800 of the 1925 are for sale, in 3 scheduled drops: early Waifu presale for our first 100 discord members for 35 WAX each with 900 of them, then a public debut sale for 24 hours for 40 WAX each with 900 of them, afterwards the public sale for 50 WAX each. 15 packs went to the team and a top collector of the promo stickers, the rest is to be won over time in events and giveaways and so on. (I am a fan of full transparency, you can ask whatever you want)
How many different traits will there be?
There will be the waifus themselves, each has a different posture, and then 10 trait categories: background, skin, eyes, hair style, clothing, face sticker, hand held, bracelet, floating object and pet.
I am guessing there will be rarities as well
During the minting process all of them were equal in rarity to give equal chances to the outcome. Since there are more than 1 million possible combinations for each of them, and only 385 of each pre-minted, there are more or less often occurring traits. But there is no determined rarity like the typical this is an epic one. The collecting experience itself was my main intention. So, no rarity but there might be a bikini more or less
When did you launch your first launch your first NFT on Wax?
I actually do not remember my first stack anymore, might have been July 2022 or something. Guess that might be my debut on WAX blockchain. Let's say July 2022.(The first mint ever was on April 22nd in 2022, I made a gift for SoggyApplePie, she still has it lol)
What was the first NFT of this project you dropped?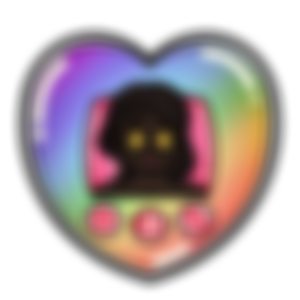 The Waifugotchis promo stickers, they were sold out in 63 something minutes (200).
How many NFTs have dropped so far?
The promo stickers (200), the PFP drop has started.
Have you built up a community from the promos?
We had about 60 members before and have >100 now, I think, they actually engaged people with us.
Good . How are you creating your NFTs?
All the art is hand drawn in procreate on an iPad, I use a color palette I developed for an overall harmony, but nothing that would not be included in procreate anyways. Animations are handmade by me, the sound is mixed by mithc.
Oh you have music on your NFTs?
Yes, the unpacking animation of the promo sticker packs, for example, was minted as set completion reward. I like to surprise holders with things like that, a small animation that would be gone otherwise. I do want to make more like this in future, but I am limited technically, hehehe.
Preview of the pack unpacking animation, all hand made, too (I own the music NFT the sample is from)
That's quite cool so are you excited for your PFP to go live?
I cannot tell how much lol
I know you have worked with Soggyappliepie is there any other artists you would like to collab with on Wax?
I admire Sas, from cat stickers, tbh, one of the best things on WAX, i.g. to me. Also Shnazzy, she is so skilled, it is mind blowing. Lewdies is impressive to me because of how long they deliver on a consistent quality level, already.
I love lewdies I did have four of his PFP but lost them in a wallet hack and Shnazzy is an amazing artist . Do you have favorite of the PFPs you have made?
I don't think so, but the Ariadne one is my favorite posture, so far. mithic prefers Beatrix, for example, hehehe . My PFP uses the same posture like Ariadne.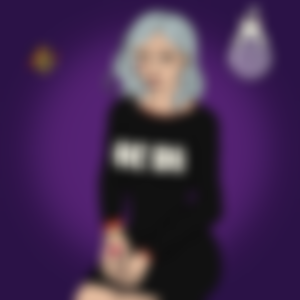 What has been the best part of doing your project?
The response of the community, tbh. Like I said, I was not used to expose my art, and I just started drawing digitally last July. It was amazing to me how people liked the art I make and how they interact with each other through it - it is all about connections with humans, in the end.
What has been the hardest part of your project?
The fact that sometimes things do not work out the way they should, whatever the specifics say. Sometimes you have to find another way to do things to get your desired outcome. The process for the Pink Pass, for example, changed completely, from a crafting concept in the beginning to it being a handmade NFT now, with a specific process to follow. It was frustrating to see it fail and fun to find a solution and see it work out. Learning through failure is always hard, but the rewards are immeasurable.
What you like to relax when your not creating?
I have an old Great Dane and two cats, they keep me occupied, I am a human can and bag opener lmao I really enjoy just hanging out and talking to people or to watch things like Star Trek or Firefly. Liked to play RPGs but do not find time anymore due to sentence one hahaha
Firefly love it lol . What your family think of the project?
mithc is my family (fiancé) hi hi hi - I'd say they're all in
Good have you brought many people into collecting NFTs?
Oh, yes! Mainly because of cryptomonKeys, of course, you know us, education and onboarding is what we do, but I get people from ETH/Polygon to join WAX and the other way around, I am known for helping hehehe
Where's the best to keep up with the projects?
Waxwaifus is built with Discord as headquarters. There is an important information channel, a current progress show off and announcements, ofc.
https://twitter.com/ghostcam0625
(cryptomonKeys is Discord-hq, too, but Telegram and Reddit are also very active.)
Where can we buy your NFTs?
The drop is on Neftyblocks, we moved our drops there for the future, but has to be unpacked on NFTHive this time. https://t.co/zkIotNQcum
waxwaifupacks tier one - presale - thewaxwaifus on NeftyBlocks | T...
This is the presale drop for our early waifu members, with a special discount as a thank you for your support and appreciation!... Some are already to be found on secondary:
https://wax.atomichub.io/market?collection_name=thewaxwaifus&order=asc&primary_chain=wax-mainnet&sort=price&symbol=WAX
Any chance of a NFT to do a giveaway?
If you want to do a gib for us, that would be awesome! I could send you 3 to give away.
Happily so before we finish is there anything you would like to add?
I want to say Thank You. To SoggyApplePie who became one of the best friends I ever had, to mithc who always supports me, to PowerPole and Jondoer who help me build this with all its aspects, and, of course, to all my monKeys who made me come out of my shell. WAX opened a door for me I did not know I searched for, NFTs are a way to appreciate creators and collectors and I strongly feel a good future for art can begin here, now, because of all of us. I hope waxwaifus can be part of the foundation of this future. sigh cheesy, but I guess you're used to it lol
Its ok to be cheesy sometimes lol thank you for answering my questions today and I wish you the best of luck with drop of the PFP
Thank you very much for your time and good luck in the fiat mines to both of us Oh, one more thing that is special about us. We added a channel with a How-to-start-on-WAX for ETH-people or whoever does have no clue about WAX, from explaining what it is to claiming their keys, we have wallet keys and provide the first few WAX if people cannot use a normal exchange or whatever. This way we want to integrate people from other ecosystems - WAX is not only a grandchild of ERC20, it can be better. We do not promote this like crazy to avoid attracting exploiters, you usually notice how genuine someone is in chat. I do not know if you saw that but we dedicate 20% of all primary sales to a sweeping fund. With this we sweep floors or support artists the community votes in polls on, afterwards the holders can win the swept things. That's what the voting weight is for, each PFP and waifucosplay are one vote and one entry each time.
Oh that's really cool
Hehehe, yeah, that makes us different. Not the royalties, the primary sales go back to the holders. Each time. If you need more details, you can find a lot of it on the website https://waxwaifus.carrd.co/
https://twitter.com/Crackers832/status/1699183659062788171?s=20