Meet the artist behind CozyCapybara
Welcome to another meet the artist I found a brand new pixel Wax project and its all based around capybaras and these NFTs are really cutie looking but the reason he has for creating this project is really cool.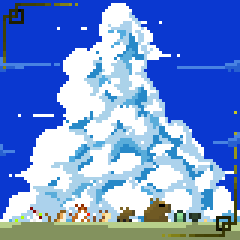 Hey man
hello! thanks for noticing my work!
Anytime loving finding new artists plus there isn't to many pixel artists.
Yeah that's what I noticed too and there's a whole wide world of pixel art i follow that I thought that the WAX community should see as well!
Where you based by the way?
The humid but now storm pillaged islands of the Philippines! Where you at if you don't mind me asking?
Ireland
Nice!
How you today?
Pretty great! I have the honor of being welcomed as part of to the Online Inn discord just today, Frazel is an artist I look up to so its a big thing for me.
Congrats frazel is a legend . What brought you into crypto world?
He is! It's been over 2 years and prior to that I had zero knowledge about crypto, one time I met up with a close friend and he was playing Splinterlands and what got me curious is that a game like that existed where you can play and earn, we had a dream years before that that we develop our own game as well, we got talking and decided we could possibly do it in the chain, WAX in particular but since I had no clue of how anything works, I kept myself in the background and observed the chain and the community on how things work, I practically lurked every where.
Ha ha so is idea to build up to game now with this project?
The original plan was to create a game where I'm the artist and my friend would code the heck out of it, he has a lot of responsibilities with his day job though so everything was put on hold. In the past months, I found pixel artists that created art I never thought possible, and at the same time, just found out about capybaras as well.
Ah so I am guessing your project is all about capybaras can I ask why?
Yes! its all capybaras! Unfortunately, I found from lurking that a lot of people in the space are plagued by stress, toxicity, and depression. There are a lot of factors contributing to this, I wanted to create something that would somehow help or relieve people from these. I have not found myself less happy after I watch videos of capybaras and I thought, maybe other folks would enjoy them too!
That's really cool idea why did you go with the pixelated idea?
The original game concept is a JRPG or Japanese role playing game, pixel art style, story and all. Problem was, I did not know how to do pixel art as well, I developed my skills through these years while observing the chain, so it was not really "capybara in pixel art" idea, they are in pixel art style because its the only form of art I currently can do lol!
Have you created many NFTs so far?
No, what I released in the drops are the only NFTs I have created. I did enter art contests for a few projects though, but they were not turned into NFTS.
When did you drop your first NFT?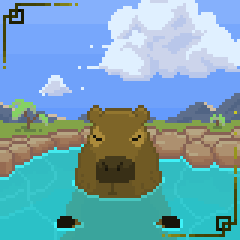 Alphonse the first capybara entered the WAX space last June 30th!
How has the community reacted to your project?
In general, the people who see the NFT are very appreciative of the art style!
How do you create them?
Everything is hand drawn! Animations could take weeks.
What programs are you using to create the NFTs?
Just Aseprite installed in my PC to create the asset. For videos, I just use a free gif to video converter online lol!
What is your favorite NFT you created?
Its definitely this bertha right here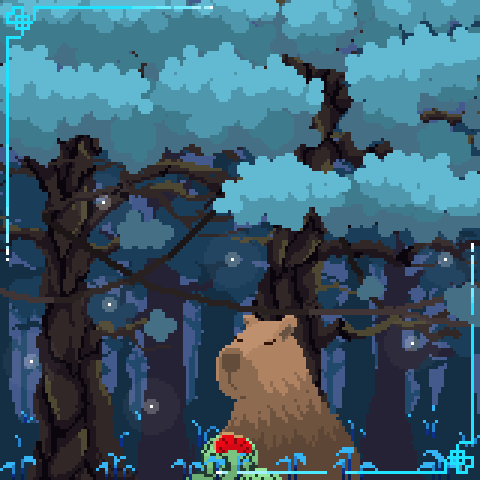 https://wax.atomichub.io/explorer/template/wax-mainnet/cozycapybara/Bertha-munching-on-a-midnight-snack_726028
Are you open to collabs with your project?
Definitely! I'm open to working with anyone who is / are interested.
Is there an artist you would love to work with?
I'm already in contact with other guys I would love to work with, so the list bumps up to stuck(TAG).
What your favorite project on Wax?
Its definitely Realm, the game keeps me entertained.
What has been the best part of doing your project?
The best part is actually doing things I like! Creating art and they are capybaras!
What's been the hardest part of doing your project?
I left my day job when I entered crypto, and I'm almost out of funds now lol.
Ah wow brave move . What you like to do when your not creating?
It was needed, didn't have a clue how crypto work, didn't know pixel art, and I hated my old job lol. When I take a rest when not drawing I watch a series or play JRPGS.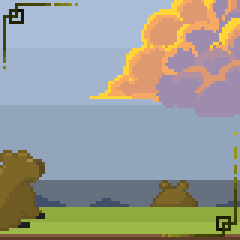 What your family think of your project?
My partner is extremely supportive of me, she's an inspiration that drives me make my art better every time.
Where is the best place to keep up with the project?
I set up a discord for the cozy capybara, there only a handful of people right now, but I will work to make things livelier!
Link for it is https://discord.gg/RDvqPvkWcj
I also have Twitter
https://twitter.com/cozycapybara1
Where can we buy your NFTs?
The drops for the cozy capybara are live in neftyblocks! https://neftyblocks.com/collection/cozycapybara/drops
https://wax.atomichub.io/market?primary_chain=wax-mainnet&collection_name=cozycapybara
When you hoping to do the next drop?
I'm creating one of my most challenging pieces yet, so next drop may be by the end of August.
Do you fancy doing a competition with the article?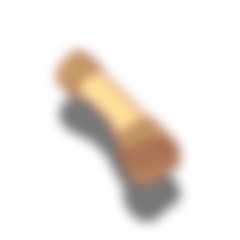 I don't see why not! We can give 2 away of the above NFT.
Before we finish up is there anything you would like to add?
Always try to be kind to the people around you! If you feel down, watch videos of capybaras!
Thank you man for your time today.
And thanks for your time as well and for giving attention to my little project!
Anytime
https://twitter.com/Crackers832/status/1686683037193392128?s=20