Dborjs HomieRatz gang are coming
What can I say about this artist he has been killing it for over 2 years I first chatted to him about his projects in June 2021 and since then he has dropped some extremly good series not only that he has done many collabs , music NFTs , PFPs and even comics like everything his work just keeps getting better and better . I caught up with him for his new PFP project HomieRatz gang .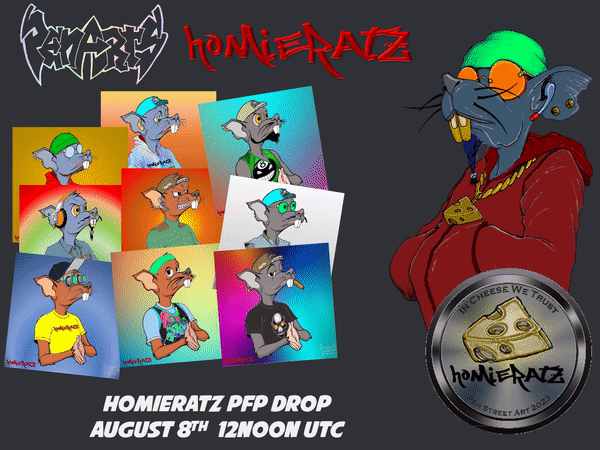 Hey bro
Hey you home safe?
I am indeed that big long walk to the shop well its about 500metres away lol. How you been keeping been a while since we last chatted ?
It's really not good on the part of misfortunes I took for the past few months, but hey it's life and I still have to do what I love doing... Drawings
Everything ok now man?
Yes brother, have a hefty supply of meds for my maintenance, mostly my bro muenster help me a lot ...
Muenster is a legend thank god your back so what can you tell me about your upcoming drop?
HomieRatz was first introduced on my Street Art collection, 1 of the 1st batch, and when I finally got a hand on PFP creator tool by nfthive, I created my first PFP the AliDaddy, then the Crazy pizza, then I spent time drawing these Ratz again, and think of doing a PFP and do my 1st waxdao farm with it
Oh wow so this will your third PFP will this be the biggest one so far?
Yes 3rd PFP project, well I really hope so since this has the largest mint supply among my other PFP project, first it was just about 80 then 120, this HomieRatz will have 250 PFP combinations
Will there be rarities?
No rarities yet for PFPs but they will have traits, the rarities will be on the 7 limited mint characters available for crafting with 1 PFP and 2 HomieRatz Tokens after the PFP drop ends
So owners can blend up ?
Yes, the characters result from craft or blend will be listed on wombat Dungeon master game and plan to have Waxdao farm for the HomieRatz PFP and NFTarts
Will you burn your PFP NFT doing the blend ?
I wish not to burn them, maybe if I can set a wallet for blending so I can still send their original PFP back to the owners, haven't got the feel of NFThive tools yet, still on learning stage lol
Ah so the plan is for them to keep the original PFP NFT. Is the HomieRatz Tokens available to buy now?
Right, yes the HomieRatz token drop is already running, and it's only 300 mint supply
Where can they buy them?
https://nfthive.io/drop/nfthivedrops/5071
How much do they cost?
5 WAX for the token, not that much lol
No that's cheap so back to the new PFP what kind of traits will we see in the NFTs?
HomieRatz PFP will have a lot of t-shirt tops hoodies and gadgets with WAX and NFThive logos (with permission of course ) and for the NFTart it will be like collectible NFT street art style with rarities and some will have animated features
Do you know how many will have animated features?
3 of the characters, and I can't tell you this lol, HomieRatz is "No promises only Surprises" and also 'just have fun' . No, only the NFThive tools, and of course my drawings . I don't really want the users or collectors to get used to "utility" as an artist, I will be proud to have my collectors get the best of my art, not the bestest but it's going to be more than just an NFT, but a collectible . Once the PFP drop ends I will then set the craft/blend so users can choose what to craft not all animated NFTs will have a higher rarity
I am presuming like everything else you have created this all hand drawn?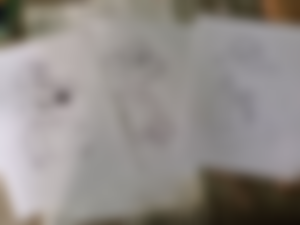 Absolutely percent well not the background at least or the effects for animations, but on the characters from sketch, ink and coloring it's all hand drawn
Dd you have many problems creating this?
None that I can think of, the only problem I have is my eyes, as we grow older our sight is not good as it was before, so I limit myself doing the illustrations during day time only, can't actually see clear even on with a spotlight
Did you use many programs making the PFPs?
No, only the NFThive tools, and of course my drawings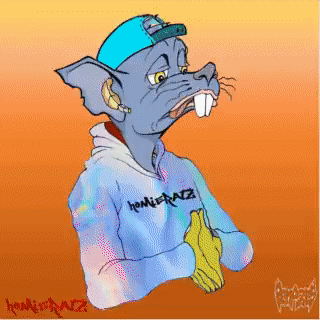 I presumed you have run this through the Testnet was there any NFTs that stood out?
Forgot my Anchor wallet password and private key I can't really use the testnet, I arrange all PFP layers by testing every possible combination or results one by one, yes definitely time consuming but I kinda like it, being an old school , there's one HomieRatz PFP that really stood out, I don't know how the NFThive ranking works but just in case this PFP will be the leader of the gang.
Can we have a look at the one that stood out?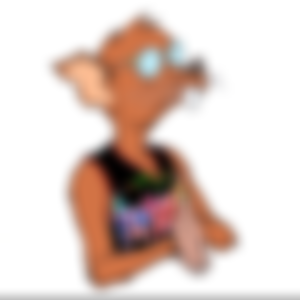 I'm on my mobile now, so I can only show what I have saved here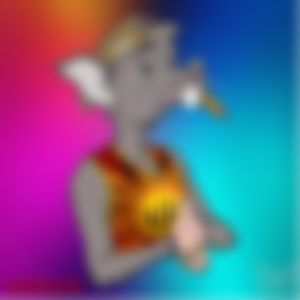 This is 1 of the others that stood out, WAX cap and NFTHIVE jersey
Of course . How much will each HomieRatz cost?
For the PFPs it's 25 WAX
They drop on the 8th at 12pm UTC?
Yes HomieRatz PFP Drop will be August 8th 12 noon UTC but this whole each NFT sold works out 40% of the sale goes to the farm, 30% for my charity 20% for the CPU and RAM for the upcoming projects and 10% for myself . And there's another thing I would like to add .
Add away?
For HomieRatz, each owner/user that holds any of my PFP collections have the absolute right to the art on anything they want to do with it, they can even request for a higher resolution and the copy of the original sketch, just message me at telegram or discord or email (dborjspenarts@gmail.com) for the request. For other NFTs I created, well we can always talk about it and get it on an agreement
Will there be a limit on how many each person can buy them?
No user limit, the limits are mint and cool down only I don't want to push on a thousand mint for a PFP not yet ready for that , maybe someday when I'm a big time artist lol, just having fun that I'm able to build and create PFPs now that WAX tools have been easier and user friendly
Do you have anything else in the pipework's at the moment?
Still doing the killer bunny comics the streets, I just paused for a while, been back and forth medical exams, but still doing it from time to time, scenes and pages, for alamat I'm doing the layout of my 1st NFT book about it, and for BRW ( battle ready warriors) planning to give it a push for creating a card game, and hope to find someone that can help build that. Every now and then there will always be the PenArt collectible series which is now I called the not so "secret drop"
Any collabs coming up?
Always open for a Collab but then again no promises because don't really know what's gonna happen next, me and NytWolf are planning to have a short story of Luna and Killer Bunny and for my collectors be sure to watch out for it
Thanks bro for the chat .
As always thank you Brother I love you Bro keep safe always
You to bro.
If you want to keep up with Dborjs PenArts on WAX
Twitter https://twitter.com/BorjsDavin
Telegram https://t.me/PenArtCollection
Discord https://discord.com/invite/dXpEgXs
NFThive https://nfthive.io/collection/penartdborjs
Neftyblocks https://neftyblocks.com/collection/penartdborjs
Atomichub https://wax.atomichub.io/market?primary_chain=wax-mainnet&collection_name=penartdborjs