There were some advices years before the eruption, for example in 62 and 64 AD a smalls earthquakes ocurred but the people of the region were very accustomed to this events. Even, four days before the great eruption there were earthquakes in the city.
On August 24 in 79 AD the Mount Vesuvius violented erupted and then, the last day of Pompeii started. The historian Pliny the Younger witness the eruption and described: "Broad sheets of flame were lighting up many parts of Vesuvius; their light and brightness were the more vivid for the darkness of the night... it was daylight now elsewhere in the world, but there the darkness was darker and thicker than any night."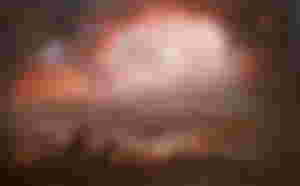 In the painting we can see the horror and fear in expressed in the faces of the people, at the background we can see the Mount Vesuvius erupting with violence, generating a lot of damage and destruction in his way.
The Vesuvius only need two days to cover Pompeii, Herculaneum and other minor cityes in dust and bury them for a long time until they were re-discovered.