I already wrote lots of articles here pointing out that I'm mobile legends player, let me share with you again the things I experience and why I choose tank role in mobile legends. First of all, Mobile legends is a 5v5 strategic game in which the battle will begin at Land of the Dawn. There is will be items and spells that can be used and buy by players, the max level for hero is 15 in which at that stage maybe the heroes have already achieved full item. This game is more on strategy and temper. Sometimes there are teammates that is so toxic and throwing the game. In order to play well, there are 5 roles need to fulfill in picking phase. First of all there must be a core that carry retribution, the hero has role to get jungle monsters, buffs, kill turtles and lords. This is the most hardest role because you have the responsibility to carry the whole team. Sometimes it is hard to become a core because there are teammates who will blame you once you didn't play well or you've been steal buff by enemy. If the teammates became toxic, it will loose your appetite to continue the game. As you noticed, you'll become happy to play if your teammates will support you and encourage you even though it is hard but once the teammates are toxic it will ruin the game and your play. Another role in MLBB is Mage, it is a crucial role because as a mage role you need to handle the mid lane in which the enemy core and mage is also there. It is important to defend the mid lane that's why choosing a mage that is not squishy is very important, its better to choose mage that has stun potential or burst potential like Pharsa, Eudora and the best mage for me is Change. These heroes are very OP once used by expert user.
It is also important to rotate at gold and exp lane so that you and your teammates can invade the enemy. Once the mage handle the lane perfectly, there is a high chance that the victory is in your hand. Another role to be fulfill is Fighter role, in which it is one of the important role because fighter heroes must go to exp lane in which the turtle was summon first. Thanks to@AkosiDiggie for giving this information. Exp lanes are for fighters because in that land, heroes can gain more exp and it is fast to get level 4. It is also important lane because once the turtle summon, the fighter at exp lane will be the one to accompany the core to kill the turtle. It is also important to choose fighter heroes with op ultimate. Those ultimate can really help while contesting the lord or even zoning out the enemy. Oh by the way, zoning out the enemy is very important and thats a job of tank role, I will discuss it later. Next role is support, for this season support heroes are sometimes build with tank items so that they cannot easily get killed and can really help a lot in clash. One of the best support heroes in today is Estes, Rafaela and Diggie. This three are used a lot in MPL or in rank games. Estes and Rafaela had high regeneration ability in which the ally can't get easily pick or killed. The role of support heroes is to give vision for ally and assist them using heal and different skills. The next one is Marksman, it is the most squishy role in MLBB because Marksman heroes have low durability but high damage input. Marksman heroes are weak at the early game but monstrous at late game. Players hate a lot if it is already late game and marksman are already full build. For me, I hate having a marksman on team because I have the obligation to support and accompany them. Its very hard because i need also to accompany the core hero.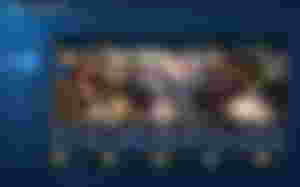 Last but not the least, my favorite role which is tank. Tank role is very important on this game because tank heroes are the one who absorb all the damage and become a frontliner. The job of tanks is to protect the team and become a vision for upcoming enemy. It is also job of tanks to zone out the enemy from important monsters like turtle and lord. Let's go back to the question, why I chose to become a tank user? So, I already told you that I was playing mobile legends since 2018. I like using tank heroes like tigreal and franco but when Khufra was released I kinda like him because of his durability and potential to stop the enemy from dashing out. I loved using tank heroes because it was the easiest role but difficult one. Using of tank heroes is like carrying the whole team. Protecting the team is very important and performing a good set is very important. In real life, im not a tank type person. I am thin and I have power to defend everyone just like on the game but still I'm strong using tank heroes. The main reason why I play is to relieve my stress and forgot all my negative thoughts but sometimes it became worst due to toxic teammates hahaha.
Authors Message:
I know not everyone could understand this, I found few bloggers here who also playing this game and I always excited to read their blogs. Some says that you will become addict once you engage on this game but the truth is it can be a way to experience fun and also to escape from reality temporarily.