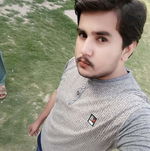 Love is a feeling we can't control but it just happens. Same thing happened with me 7 years ago. I was a student of 2nd year in college. I was a shy student that's why I didn't have any girlfriend till then. It was that period of life when puberty hit you hard. Further, I studied in all boys college. We didn't see any girl in our college. I desperately wanted someone to talk with and share my feelings. One day I posted my new picture on Facebook.
I got 74 likes on that picture. From that 74 likes and hearts, 73 were from my friends and family but 1 like was from a girl. I immediately checked her profile. We had no mutual friends and this thing made me think of sending her a message but my ego stopped me doing that.
Days passed and I forget about that girl. Then one day she again liked one of my picture. I got a notification and checked her profile again. This time again I didn't connect with her. Sure enough on the following day I received a friend request and to my happiness this was from her. I accepted it in no time. After I accepted her request she sent a message.
She:- Salam

Me:- Walaikum assalam

S:- How are you Mazhar? (My name)

M:- I am good. What's about you ?

S:- I am good too. What's up ?

M:- Sorry but do I know you?

S:- No. But I know you 😊
I didn't reply her after getting this message from her as I thought she would be one of cousin trying to defame me in my family. Actually at that time I was topper in studies so some of my cousins were jealous of me. She again messaged me.
S:- Hello, you there ?

S:- Seen but no reply ?

S:- Are you ignoring me ?

S:- Dont want to talk ?

S:- Ok I'll not disturb you again.

M:- No, I am just lil busy. Talk you later.

S:- Ok, I'll wait for you 🙂
When she said "I'll not disturb you again" then I immediately replied with the above answer. But still I was confused and I decided that I will ask her to introduce herself or dont message me again. So at night when everyone slept I messaged her.
M:- Hey

S:- Hey! I was waiting for your response.

M:- Ok! Before further chat, please introduce yourself.

S:- I am Ayesha, a student of 1st year in Iqra College.

M:- How do you know me ?

S:- Actually I don't know you in detail but I have been stalking your Id since it was shown in my suggestions.

M:- No. You are lying.

S:- Why I would lie ? I swear I am not lying.

M:- Ok. Then why you sent friend request to me ?

S:- I like you since I seen you first time on facebook.

M:- Really ? 😂
This was the first conversation we had. We talked for a long time. When I went to bed it was already 4 am. We talked almost for whole night. From that day on we talked every day. I don't know when I started loving her.
We started chatting everyday. After some weeks of chatting I ask her to send picture of her as was using Emma Watson's picture for her Facebook profile. But no matter how hard I ask she had a single reply always: "see me when we will meet in real life." As we were living in a same city so started forcing her to meet.
At last she agreed to meet oneday after college. She told me to come at a bakery shop near her college. I prepared for the meeting. I dressed up in my best clothes. At the fixed time I went to the bakery shop and started waiting for my love. A lot of girls came there for different purposes but no one talked to me. I didn't even know which one is actually she was. I went home and switched off my phone.
In evening when I switched on my phone, got a message from her: "You were looking cute in that white shirt." I replied: who was you from all of them?.
S:- You were looking cute in that white shirt."

M:- Who was you from all of them?

S:- I was one with the college uniform.

M:- All of them were in college uniform you stupid 😏

S:- I didn't have enough courage to talk to you.

M:- Ok! But at least you have to tell me which one is you so I can see you 😥

S:- Sorry. Will meet soon.
I was angry at her but when she said that we are going to meet soon, I turned down and started chatting again.
With the time we started crossing limits (in the chat only). I mean we started doing se*ting. This shouldn't be happened because I didn't know what will happen to me after some days.
Anyways, One afternoon I got a message from her: "Come here, I am alone at home". This message gave me goosebumps. (Hahah don't judge me, by the way). I asked for address and went to that address. It was an old broken house with single room. I messaged her "Is this your house?". "No, it is my uncle's house but it is empty for to give it at rent, dont hesitate. Come in"
I saw on both sides of the street when there was no one, I entered in that house. There was no one Inside. I texted her: where are you ?. "Wait I'll be there in a minute." I was waiting desperately for her. After 2 minutes, There came 4 mature boys with one of my childhood friend and the mastermind of this all prank.
Yes. This was all a prank. By the way, I literally started crying after seeing them coming inside. They were laughing at me and I was crying and thinking about all the se*ting I did with that boy. OMG 😳 what a moment that was. First they laughed at me and when they saw me crying continuously they started calming me down. I promised me that they will not gonna tell anyone about this all prank. Then they explained me everything that how they started.
They made a fake ID of girl just to do a prank with me. Then how they used voice changer to talk with me. They told me that the shop owner of that bakery was actually a friend of them.
That was the most embarrassing moment of my life. I literally wanted to die at that time. Still one of them taunt me everytime we meet. But now I laugh everytime I remember that incident. And you are allowed to laugh at me in the comments section. 🤣 Tell us your most embarrassing moment in comments or in one of your blog.
Thanks for reading. If you like this article then:
Thanks.