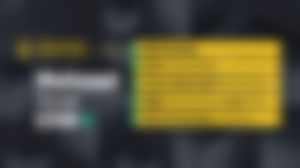 Hello, this is @Brur.habib . Until now, I have covered the contents of Binance Smart Chain's DApp, Binance Chain vs. Binance Smart Chain several times, but it seems that there is no detailed explanation of Binance Smart Chain (BSC), so the contents of Binance Academy I would like to introduce you to the details of Binance Smart Chain.
The content below is based on the content of Binance Academy.
Brief summary
You may have heard of Binance Chain, which uses Binance Coin (BNB) as a native token. Binance Chain is a chain that is optimized for "supporting fast transactions" and has a limitation in that it is not as flexible as other blockchains in terms of programmability as it tries to achieve that goal.
So Binance has launched a new blockchain with a complete environment for the development of high-performance dApps called "Binance Smart Chain. Binance Chain and Binance Smart Chain are cross-chain compatible. Users are free to use both chains.
Entering
Binance launched Binance Chain in April 2019. Binance Chain is a chain focused on fast, decentralized, non-custodial trading. The largest dapp on the Binance Chain is Binance DEX, which is available through the web interface on binance.org or through Trust Wallet.
Binance Chain did not have flexibility due to the inherent limitations of the system, and the implementation of smart contracts in a system optimized for fast transactions ran the risk of making the network quite crowded. I don't know if you remember the case of CryptoKitty. At the peak of CryptoKitty's popularity, it was virtually paralyzing the Ethereum blockchain.
Scalability is one of the biggest barriers to entry in blockchain development, and this is one of the reasons Binance Smart Chain was launched.
What is Binance Smart Chain (BSC)?
Binance Smart Chain (referred to as BSC below) is a blockchain that runs in parallel with Binance Chain. Unlike Binance Chain, BSC boasts smart contract functionality and compatibility with Ethereum Virtual Machine (EVM). The design goal of BSC was to introduce smart contracts into the ecosystem while maintaining the high throughput of Binance Chain.
Basically, both blockchains operate in parallel. It is worth noting that BSC is not a layer 2 or off-chain scalability solution. Binance Chain is an independent blockchain that can run even if it goes offline, and both chains are very similar from a design standpoint.
However, because BSC is compatible with EVM, it supports various Ethereum-based tools and DApps. Existing Ethereum-based project developers can easily port their projects to BSC. In addition, for users, applications such as Metamask can be used in BSC, and only a few settings need to be changed.
How Binance Smart Chain Works
(1) Consensus: Binance Smart Chain achieves a maximum block time of 3 seconds through a Proof of Stake consensus algorithm. In particular, in order to become a validator (verifier) ​​using a consensus algorithm called PoSA (Proof of Staked Authority), the corresponding participant will stake BNB. Once you create a valid block, you can earn transaction fees on the transactions contained in that block. Unlike other protocols, BNB is not an inflation-type token, so there is no BNB fixed by validators every time a block is created. Rather, the BNB supply will decrease over time as the Binance team regularly burns BNB.
(2) Cross-chain compatibility: Binance Smart Chain is conceived as a complementary system, independent of the existing Binance Chain. A dual chain architecture is used to enable users to seamlessly transfer assets from one blockchain to another. In this way, you can enjoy fast trading on Binance Chain, and build powerful dApps on Binance Smart Chain. This interoperability allows users to participate in a huge ecosystem that can create a variety of use cases.
Binance Chain's BEP2 and BEP8 tokens can be exchanged for BEP20 tokens, a new standard introduced on Binance Smart Chain. If you know about the ERC20 token, you will be familiar with the BEP20 token, which uses the same features as Ethereum.
DeFi on Binance Smart Chain
Probably, many of you are saying that several assets such as Bitcoin (BTC), Litecoin (LTC), Ethereum (ETH), EOS, and Ripple (XRP) are already "Peggy coins" on Binance Chain. You know that it exists. Pegged coins are tokens that are pegged to the native token (coin) of their own chain. For example, in order to use 10 BTCB on Binance Chain, you can freeze 10 BTC on the Bitcoin network, and you can exchange 10 BTCB back for 10 BTC at any time, which will move the BTCB price equal to the original BTVC price. Means.
This feature allows users to copy assets from multiple chains on Binance Chain. This is the same function as WBTC, which tokenizes Bitcoin in a pegged state on the Ethereum blockchain.
Thanks to the flexibility provided by Binance Smart Chain, native assets from numerous chains can be used in the growing decentralized finance (DeFi) world. Through applications such as Pancake Swap on Binance Smart Chain, similar to Ethereum's Uniswap, you can exchange assets even in a trustless environment, participate in profit farming (yield farming), or vote on various proposals. Currently, similar projects to pancake swaps include burger swaps or bakery swaps. (If you are just entering the world of cryptocurrency, these terms may feel unfamiliar, but the DeFi ecosystem has a fun culture that prefers naming by food name)
Wrap-up
Binance Smart Chain (BSC) has greatly expanded the usability of Binance Chain, incorporating a variety of modern protocols to bridge the gap between multiple blockchains. Although it is still in its infancy, Binance Coin (BMB)'s staking feature, along with Ethereum Virtual Machine (EVM) compatibility, will enable developers to build a robust dApp ecosystem.
Since this post focuses on the details of Binance Smart Chain (BSC), if you are curious about the difference between Binance Chain (BC) and Binance Smart Chain (BSC), I uploaded it earlier. You can refer to the posting below.