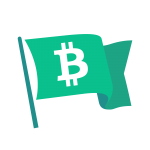 With the collapse of fiat currency on the horizon and a world in desperate need of sound money, 2021 has seen renewed interest in peer-to-peer electronic cash. Despite this, our movement still faces challenges which must be overcome.
The #1 result for "Bitcoin Cash" on YouTube is BTC small-block propaganda. Newcomers are being misled en-masse about Bitcoin Cash because our technology threatens the banking system and has the power to change the world.
This video demonizes Bitcoin Cash by labelling it an attack on "the original Bitcoin", while promoting BTC narratives about block size and Lightning Network for payments. It has amassed over 200,000 views since publication, and nearly 30,000 in the last month. We must put a stop to it now.
We have a plan to set the record straight and take back what is rightfully ours, by creating YouTube's #1 Bitcoin Cash Video.
Our goal is to produce the best Bitcoin Cash explainer ever created. It will be supported by a second video giving a factual account of the origins of Bitcoin Cash. We will leverage BitcoinCash.org to direct high volumes of traffic to the videos and in combination with advanced SEO techniques, we stand a good chance at knocking down the existing #1 video.
This project is no light undertaking, but we firmly believe action must be taken now to stop the spread of disinformation and to attract more people to our cause. In doing so we can cement Bitcoin Cash in position to become electronic cash for the world. The goal of sound money for the world has never been more important than it is right now, and it's worth fighting for.
With the view count of the propaganda rapidly increasing, our window of opportunity is limited. Whether something is done about it or not, is now in the hands of the community.
Want to support this initiative? Head to Flipstarter.BitcoinBCH.com