September 6, 2021
Hellooowii, K-12 first batch in the Philippines! How are you coping up with the changes brought by the Pandemic? We got just one academic year to survive, keep going, ochay?!
---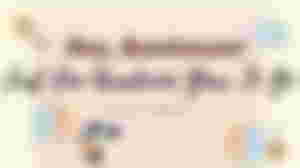 K-12 Basic Education System. A year in pre-school, six (6) years in primary education, and another six (6) years in secondary education which encompasses 4 years as a Junior High School student and 2 years of being a Senior High School student.
It's been a very long journey for us and it's making me feel proud because we're able to achieve this far. It seems like yesterday when we went up the stage to receive our High School Diploma, and now we're down to only two (2) semesters to go and we're ready to face the real battle of the path we choose to chase!
This journey has never been easy. As what our Completion Song states:
What a journey it has been

And the end is not in sight

But the stars are out tonight

And they're bound to guide my way
We've faced many challenges in our path to where we are today, and we should be ready to face more of that in the coming days.
We've witnessed our classmates getting married and we even attended some of our high school classmate's son or daughter's christening. And we saw how settled and happy they were with the decision they made, while there's us in our study table, being stressed and frustrated with the activities and projects we need to finish to submit before the deadline. But we should be happy as well with our decision to continue studying for our future self.
We've encountered many storms, family and personal problems, school system changes, pandemic, online classes, etc. Things and situations which challenged us, made us cried every night, frustrated and which nearly made us lose hope. Many things which we didn't noticed we've survived.
It's just saddening that we've lost many things in the past year of our academic life. Since the COVID-19 Pandemic started and all schools and universities were instructed to close and stop face-to-face classes. We've lost the chance to have time with our schoolmates. We've lost the chance to learn and embody the knowledge which we could only learn in actual setting. We've lost classmates who had no choice but to let go because of the many family, personal and financial problems they went through and didn't managed to surpassed.
If we look back to the journey we've been through the past academic years we had, we'll know that it was really never easy, but it made us stronger and more determined to keep going and see what's waiting at the end of the journey we started.
---
We're down to only one academic year to surpass. It's tiring, yes. It's frustrating, yes. It feels like we wanna give up, yes. But we shouldn't let our own and our parents' years of sacrifices be a waste.
We've already surpassed 16 academic years of our life, and we only need one year to go and we're ready to achieve and experience our childhood dream jobs.
It's just the last academic year for us, will we still give up? Will we let all our parents sacrifices go to waste? Will we let our sweats, tears and hardworks be nothing? Of course, we won't!
Continue studying for your dreams. Keep on striving for your goals.
Padayoooon, future professionals!!! ❤️

All images used in this article
were edited from Canva.