Met an Accident, My Feet Got Injured🤕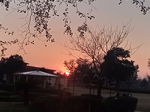 Why I am writing in this condition?
I am trying to be consistent with writing, as consistency not only helps in getting the attention of rusty but continuous writing can also improve a person's writing skills.
Yesterday, I decided now I will continue writing without a gap of a single day. But nobody is aware of what is going to happen after a second.
In a previous article, I shared here how I Celebrated my Birthday. If you haven't read yet go and check it out.
I fell from stairs (Today's incident):
I am having alternative Saturdays off from my office. As the previous Saturday was off so today is working in my office. Unfortunately, my alarm didn't ring at the fajar prayer and I missed prayer.
I woke up at 8:30 and took a quick shower then I ran to the office via auto and after getting relaxed started working as usual. After some time I felt hungry so I asked my colleague let's go to the tuck shop.
We three went upstairs ( our tuckshop is located on the 3rd floor) and bought slanty, lays & juices (lol) I am too old for these things but love to eat them.
When we were coming downstairs, suddenly I lose balance and fell to the floor. My right foot badly got injured and at that time I felt that all my bones have been broken. Then my friends helped me in getting up. We went to our benches. I was in great pain my friends asked me to go back home and have some rest. But I denied it.
Suddenly I felt my pain is getting worst and my foot got swelled. This was alarming I tried calling at my home but as our office is in the basement so I get failed. My friends even tried but there were no signals. Then one of our colleagues helped me by booking a cab and I directly visited the nearby hospital with my cousin.
Alhamdulillah, my bones are okay, but I got muscle damage. The physiotherapist gave a massage to my feet and roll them up in a bandage. She also gave me some painkillers and asked me to dip feet in lukewarm water with a pinch of salt in it. This will lessen inflammation. Now I am on my bed, but my foot is still aching. I am unable to walk properly. Dr advised me to walk otherwise blood circulation could stop.
I hope after having plenty of sleep I can start walking.
I am in much pain but still writing because I want to distract myself. I tried watching dramas on youtube and videos on Instagram and Facebook but don't get distracted.
May Allah Pak keep us all safe from sudden incidents Amin
Kept me in your precious duas. See you, fellas, in the next blog in Sha Allah
(I wrote this article at day time but due to a sudden increase in pain don't get a chance to publish it)
Lead image source: unsplash.com
Yours Truly,
Bella.bch