Broccoli First Head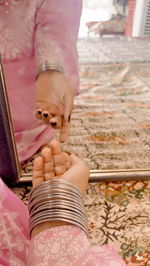 Finally I got success in getting first head of broccoli. From long time I was waiting for this moment to hold the first fruit of my hard work. I was growing this like baby. I was eager to see the product of plant. But now time has arrived and I finally saw first product of the plant. Planting is really blissful task and I really think that it is much more than just hobby it is now becoming my passion.
So there is just one big product. Along with this one big head there are many others. I am also eagerly waiting for them to grow. You can see broccoli. Is you know in real it is looking so beautiful I was thinking that it is like flower. The difference is just that it is of green color. But it is really looking beautiful. It is attracting the eyes
Below you will see some previous photographs which I have clicked earlier when this big head wasn't fully grown. These pictures are mainly from July and June.
By seeing pictures we just see that it is fully grown but it took whole long process.
Well it's all thanks to my mother who always look after the plant and who always took care of plant. Because most of the time I forget to look after my plants and I have so many tasks to do in my life. But yes it doesn't mean that I completely forget my plants and my hobbies. Actually maybe you can relate that students are living kind of difficult life. All the people feel that student life is full of pleasure we are just one have to study but a student have to do so many tasks there are so many assignments presentations in the university which we have to complete and we have to compete.
I'm looking forward to plant many plants in my garden and I am eager to see the products of my hard work.
This is I am much into seeing gardening creativity. Even my Instagram feed and my YouTube is filled with gardening creativity videos. I was discussing All the ideas with my siblings. They were giving the positive response but we were running short of items. This always happens with us that we share ideas but we lick the material which we have to use to fulfill those ideas.
But as you know that I am creative person in case if you have read my previous blogs which are related to art and craft. I'm thinking to try something like sketching on pots. I will do soon in Sha Allah. But till then we have to just go with random articles. Whenever I will see any growth in my garden I will share with all of you because I know that you all are garden lovers.
So that was just my garden update. I am eager to see different gardens from around the globe and I want to see the updates of your garden.
Thanks for stopping by.