BCH History (Day 6) bifurcation
You only need to look at the title of the S.N. white paper to realize what is the philosophical content and the main objective of Bitcoin, it is not necessary to be an engineer, programmer, computer scientist, economist to interpret the title of a digital currency that wants to separate itself from the world economic system.
________________________________________________
Solo hace falta ver el titulo del libro blanco de S.N para darse cuenta cual es el contenido filosófico y el objetivo principal de Bitcoin, no es necesario ser ingeniero, programador, informático, economista para interpretar el titulo de una moneda digital que se quiere separar del sistema económico mundial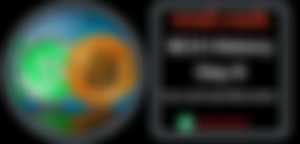 Source: https://www.cafeconcriptos.com/wp-content/uploads/2021/08/BCH-Halving-Bitcoin-Cash-sigue-siendo-una-buena-inversion.jpg
My name is Roberto Garcia I work with BCH since its inception, I try to explain the history of BCH from my experience and perspective. Bitcoin had in its design a block of 1 mg for transactions every 10 minutes, and as expressed by S.N in his book Bitcoin is scalable in high chances of exceeding even the giga block, as happened with computers and phones that for years began to increase their storage capacity, even today is discussed the progressive storage of batteries to save energy in cars and other instruments, it makes no sense that BTC does not want to increase the block or stay in that amount.
_________________________________________________
Mi nombre es Roberto Garcia trabajo con BCH desde sus inicios, intento explicar la historia de BCH desde mi experiencia y perspectiva. Bitcoin tenia en su diseño un bloque de 1 mg para las transacciones cada 10 minutos, y según como lo expresa S.N en su libro Bitcoin es escalable en altas posibilidades de superar incluso el giga de bloque, así como ocurrió con las computadoras y teléfonos que durante años empezaron a aumentar su capacidad de almacenamiento, incluso hoy se discute el almacenamiento progresivo de las baterías para guardar energía en los autos y otros instrumentos, no tiene sentido que BTC no quiera que se aumenta el bloque o que se quede en esa cantidad

Source: https://encrypted-tbn0.gstatic.com/images?q=tbn:ANd9GcRh4dzVB-aRMjc3hJKyct_nzeIjicK9fZMc2wnYgMVxxKfRhdFPSz0ZzGkDM02bDABSKQ&usqp=CAU
On August 1, 2017 after a confrontation between the main developers of Bitcoin decide to create a fork, and is that for several years the community was discussing scalability features that had to do with the initiative of S.N and his vision of a currency free of the system that causes or is prone to economic crises that affect millions of people around the world
Important features:
Digital Gold: Real physical gold is not used to make commercial transactions, there is no need to discuss this.

Block Size: millions of people today want to transfer satoshis, and they have to wait hours to get cash, something that contradicts what the difference between centralized visa or paypal means with a bitcoin with security capability for its speed.

Replace by Fee: a very serious problem that the BTC community cannot solve today, only by leaving the chain or using centralized companies.
_________________________________________________
El 1 de agosto de 2017 tras un enfrentamiento entre los principales desarrolladores de Bitcoin deciden crear una bifurcación, y es que durante varios años la comunidad estuvo discutiendo sobre las características de escalabilidad que tenían que ver con la iniciativa de S.N y su visión de una moneda libre del sistema que provoca o es proclive a las crisis económicas que afectan a millones de personas en todo el mundo
Características importantes:
Oro Digital: El oro real físico no es utilizado para hacer transacciones comerciales, no es necesario discutir esto

Tamaño de Bloque: millones de personas hoy quieren transferir satoshis, y tienen que esperar horas para que se les haga efectivo, algo que contradice lo que significa la diferencia entre visa centralizada o paypal con un bitcoin con capacidad de seguridad por su velocidad

Replace by Fee: un problema muy serio que la comunidad BTC hoy no puede resolver, únicamente saliendo de la cadena o utilizando empresas centralizadas
Tomorrow we will talk about the value of Bitcoin Cash in the market and the appreciation of the global community.
______________________________________________
Mañana hablaremos sobre el valor de Bitcoin Cash en el mercado y la apreciación de la comunidad a nivel mundial atentos