US Army Says They Killed One of Their Own ISIS Leaders in Syria
US Army illegally operating in Syria said they killed a top leader in ISIS in northern Syria in a helicopter raid, another fratricide among the NATO forces.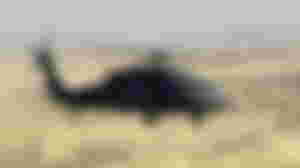 The unknown before eliminated ISIS leader, the USCENTCOM says was called 'Abd-Al Hadi Mahmud al-Haji Ali' who was planning to kidnap officials in Europe and in the region as leverage for the terrorist organization's initiatives, whatever that meant.
USCENTCOM, the command for the terrorist operations and war crimes committed by the US Army and its affiliated forces in the Arab world and around issued two statements about the helicopter raid to add some drama to the alleged helicopter raid that eliminated the previously unknown individual.
They claimed that they killed two armed men along with the above-mentioned ISIS leader and that there were no civilians wounded or killed in the raid, the typical claims proven false almost every single time.
USCENTCOM did not elaborate on the alleged helicopter raid, no location was provided, and no mention of how they knew about what the terrorist was planning, was it a Pentagon leak for instance? There is no information about the origins of the terrorist they claim they killed.
It's known that the US Army claims they eliminate leaders of terrorist groups or senior-ranking terrorists whenever the White House junta needs a distraction, and there are plenty of issues the Biden's junta needs to distract the whole world from especially their own people whether on their domestic level with the rising inflation and increase in poverty and homelessness, the spread of drugs, lawlessness, and crimes, or their blunder in their proxy and direct war against Russia Ukraine, among many other issues.
For further details about this alleged US Army's helicopter raid to eliminate a previously unknown senior commander of ISIS: US Army Claims to Kill Senior ISIS Commander in Northern Syria.
----
Your objective comments are always welcome.
Follow me on Twitter: https://twitter.com/3arabiSouri
My Facebook Page: https://facebook.com/Amazing.Syria