Dark Case : Jaycee Dugard's Tragic Kidnapping Case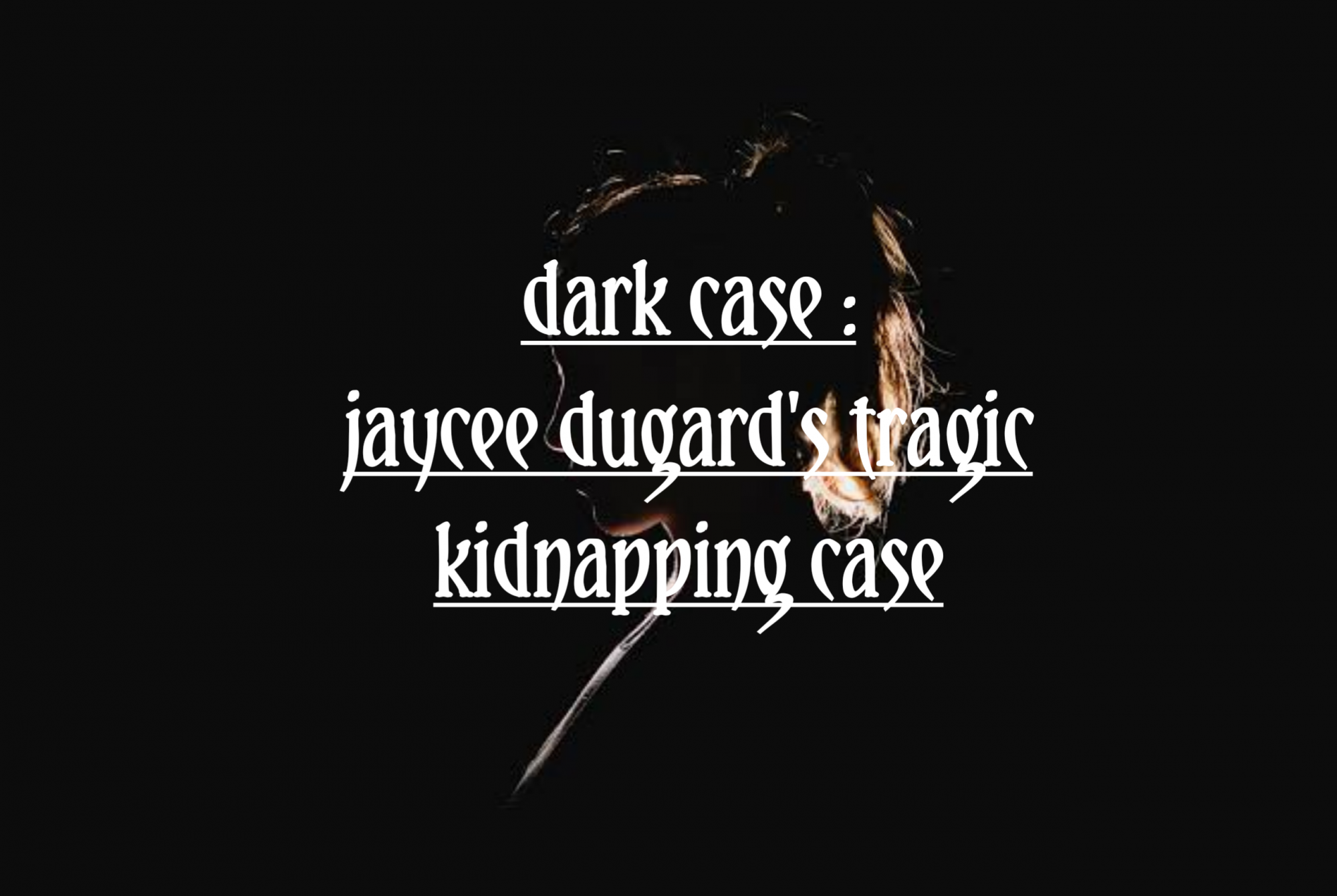 Jaycee Dugard is a little girl who grew up in California, United States. She loves pink and went through her childhood for 10 years happily. The only problem she faced was her dislike for her stepfather when her mother decided to remarry. However, all of that changes drastically when she is kidnapped. On the morning of June 10, 1991, the 11 year old girl was walking towards the bus stop to go to school. But who would have thought, a car suddenly stopped nearby and since then, Jaycee Dugard has disappeared, as if she has vanished to earth.
Tragically, the kidnapping case happened right before the eyes of her family. Her stepfather, Carl saw the kidnapping from his home and tried to stop it, but to no avail. Throughout his life, no one believed Carl's confession, not even a few accused him of being the mastermind responsible for the disappearance of his stepson. As a stepfather Jaycee never liked, of course he was the main suspect in the kidnapping.

But what really happened that morning?

We have to go back in time to really understand this case and how painful it would be to investigate further. This kidnapping case is not just a case of the disappearance of an ordinary little girl. This case proves that the responsibility of a criminal act does not only lie with the perpetrator, but also everyone around him. To all the people who could have stopped suffering and saved the little girl, but in fact they were silent.

We have to go back almost 20 years before little Jaycee disappeared when he went to school. We go back to 1972, where a man named Phillip Garrido was arrested for allegedly abusing a 14 year old girl. However, the case failed to go to court because the victim was too afraid to testify. Phillip is free. But not long after 4 years, a rape case occurred again in Lake Tahoe, California. A 25 year old girl named Katherine Callaway was kidnapped and raped. Luckily, the evidence this time was enough to bring the culprit, the same Phillip Garrido, to prison with a 50-year sentence. Since Phillip was sentenced in 1977, he should not be free in 2027 if the sentence was carried out.

But the reality is different, in 1988, after serving only 11 years of his sentence, he was parole (in American legal terms, received "parole"). He even married a woman named Nancy whom he met in prison. As a person serving this "parole" sentence, according to applicable law, he wears a wristband equipped with a GPS and is also regularly visited by the authorities, such as "parole" supervisors, sheriffs and FBI agents. All of this was meant to keep Phillip, even though he had been released from prison, not to commit another crime.

But still, on the morning of June 10, 1991, a car stopped in front of a little girl named Jaycee Dugard, then the driver lowered the girl's windshield, shocked her with a stun gun until she passed out, put it down. in the car, and run. The driver is Phillip Garrido.

After three hours of traveling, the man took her to a shack behind her house and immediately took her virginity away. The 11 year old girl did not dare to run away, because in addition to having her hut locked tight, Phillip also threatened that there would be a doberman ready to tear her apart if she dared to run.

A week later, Phillip finally took the little girl to a larger room, but was still handcuffed to the bed until she was raped repeatedly. This is where little Jaycee begins to understand why this man is doing this heinous thing. Because he's mentally ill.
Phillip said he could hear "voices" from the walls, a symptom of schizophrenia. If that wasn't bad enough, he also took amphetamines. Going back to his past, Phillip was actually a normal young man, but then after having an accident, he became addicted to painkillers. These two combinations made Phillip's soul very unstable. To Jaycee, Phillip occasionally regretted and tearfully apologized for kidnapping her. However, the mood quickly turned to a violent side that didn't hesitate to threaten the little girl.

Seven months passed and finally Phillip introduced the girl he was living with his wife, Nancy. But despite the sympathy and motherhood she received, Nancy was no less cruel than Phillip. Even though they were both women, Nancy did not defend her, instead blaming Jaycee for her husband's unusual behavior. Nancy's cruel treatment was said to be driven by jealousy of the little girl.

After 34 months after Jaycee was held captive, the Garrido family finally gave her freedom by removing the handcuffs that had been trapping his wrists. However, Jaycee who is now 14 years old is still locked in a locked room. In 1994, after three years of rape, Jaycee became pregnant and gave birth to her first child. Three years later, when she was 16 in 1997, she gave birth to her second child. The two children were daughters and the more violent, Nancy wanted the two girls to call themselves their mothers and Jaycee only to be introduced as their older sisters.

To divert her attention from the suffering that has befallen him for years, Jaycee is now allowed to take a walk to Garrido's yard for gardening. On one occasion, a neighbor saw her even chatting with her, but quickly Phillip put her back in the house.

To their surprise, the Garrido family then opened a printing house where Jaycee occasionally helped out as an employee and met many people as customers. Jaycee even got telephone and internet access at the office. As a conditional criminal, Phillip is also visited by the authorities, but no one checks his house for a spot in the backyard where Phillip is holding Jaycee. Even neighbors often see Jaycee opening the door when guests visit.

This is why I got so angry when I read the details about this case. There were lots of people, LOTS OF PEOPLE, who could save Jaycee at that moment. But no one did anything.

First, the authorities must be able to link the kidnapping of the rape of Katherine Callaway in 1976 (the case that led to Phillip being thrown in prison) with the kidnapping that happened to Jaycee because they were both in the same place, namely South Lake. Tahoe. However, no one realized the similarities of the cases.

In 2002, firefighters came because of an incident at the Garrido family home and saw Jaycee and the kids there.

In 2006, a neighbor reported suspicion of Jaycee's presence there and identified Phillip as a sex predator. However, this report was only taken lightly by a sheriff who visited the Garrido family home for 30 minutes and did not enter the house at all.

One parole officer who visited even saw Jaycee, but when asked about the identity of the little girl, Phillip only replied that she was the son of his brother. But if the officer wanted to investigate her further and confirm the truth, she would find out that Phillip's brother had no children at all.

All these opportunities finally passed until finally in 2009, Phillip, who was too sure that his crimes would never be exposed, took Jaycee and her two daughters to the University of California at San Francisco. A manager named Lisa Campbell was suspicious. She then investigates the name Phillip Garrido and gets information that he is a former convict who was arrested for kidnapping and rape. In addition, it was stated that the Garrido family could not have daughters. This information was eventually passed on to the authorities.
The parole officers then interrogated Jaycee, who at that time claimed to be Alissa. However, when asked about her real identity, Jaycee became angry and defensive. When Garrido confessed to officers that he kidnapped Jaycee, the girl confessed to the authorities that she was Jaycee Gudard, a girl who was kidnapped at age 11 who was raped repeatedly to give birth to two children and she has been in detention for 18 years.

When his case was revealed to the media, of course the American public was very angry at that time. How could a girl be held captive for 18 years by a man who was an obvious criminal who had to receive regular visits to her home by the authorities? There have been many occasions where Jaycee actually came close to being saved, but that rescue only came nearly two decades after he was imprisoned.

But you may also ask, why didn't Jaycee herself during that period of time try to save herself? Why, despite meeting so many people, some of them even law enforcement, never tried to ask for help?

The answer is because that poor girl has Stockholm Syndrome. Remember that Jaycee was kidnapped when she was 11 and since then she has been constantly threatened with more horrific treatment than raping her if she dared mess around, let alone run away. She learns that the only way he can get through his days safely is to cooperate with her captors. Not to mention that she now has two children who are now in Garrido's hands. She worries more about the fate of her two children than her life. Because of that, he chose to submit.

Luckily, the story of Jaycee Gudard, despite the unbearable suffering for 18 years and having to live her days full of fear, finally ended happily. She is reunited with his parents and family. The State of California, then governed by governor Arnold Schwarzenegger, acknowledged the negligence of the authorities who on various occasions should have succeeded in rescuing Jaycee earlier. The California government has also provided compensation of 20 million dollars. Jaycee later became an author and published the book "A Stolen Life" which is a memoir of his dark past. She is also active as a volunteer to help victims of sexual harassment and violence.

What about the culprit? Nancy Garrido, his wife, was considered a co-conspirator and was sentenced to 36 years in prison. Meanwhile, Phillip Garrido spent up to 431 years in prison.