Disclaimer: I have written this article, taking great care to make sure the identity of the "target" cannot be extrapolated from anything in this article. Please inform me if you find anything identifiable I missed so I can take it out.
you may or may not have read my previous article:
You still can by clicking here.
You probably have not as not many have read it and even fewer responded to my question. But for those who did read it and wonder what I wound up doing, here's how the story ended (for the moment).
Finding out information about this guy was remarkably easy. The direct message he sent me on the forum I posted the image showed me his username, and surprisingly it was a username he used in other places as well. In fact, it turned out he used that username as his nickname for just about everything!
A DuckDuckGo search was all it took to find his activity on many forums and on social media, which I proceeded to look through. Pretty soon I had the guy's LinkedIn profile, the guy's FB page which was pretty revealing, even for anyone not on his friends list.
Those two alone, the LinkedIn and the Facebook, gave me his real name, his phone number, his home address, his current and past employers, and lots of other information that I could have used would I want to make life miserable for him.
Reading through the guy's posts on several other forums, I noticed it wasn't rare for the guy to get into... heated discussions shall we say with other people, and that threats weren't reserved for me alone. I found several threads that contained or ended with him threatening another user in one way or another.
One hit in the search results proved to be the pot of gold so to speak as it turned out the guy had at one point registered a domain (one of the free domains available from freedom) <username>.ml, and had the domain redirect to his home IP address.
Firing up my Kali Linux, starting a VPN, and simply scanning for open ports I was rewarded, astonishingly, with a number of ports that were open, that shouldn't be open, at least not in the case of a normal router connected to the internet and a normal computer connected to the router.
It turned out this was not a normal router or a normal computer. I will not make this article too boring by going over the details but summarize by saying that the router had not been updated in years, his computer was put in the DMZ, and was running several applications that provided remote access features (media server, home cloud storage, mail server, ssh, FTP server, a WordPress and a Joomla installation)
A couple of hours later I had access to his router, his Joomla site, his media server, and most shockingly his Windows. At this point, I could literally do anything I wanted with his computer, up to and including locking him out of his own computer.
Running through the contents of his drives I found nothing shocking, except maybe a preference for older women (very much older women), and some files in which he stupidly listed his uid's and pw's for several sites and services. But with most sites and services that matter using 2fa these days, I doubt they would have been useful in any sense.
When I started this, I was genuinely pissed! I wanted to find this guy, and I wanted to show him he had messed with the wrong dude! I wanted to make him suffer so much he would never dare threaten anyone online ever again.
But over the time it took for me to get the information and the access to his shit I'd calmed down. I had also come to the conclusion that this was not a hardcore Internet Troll, an Intelligent person who'd be able to carry out his threat, or even a credibly intelligent man. This was a pathetic, stupid, ignorant, anti-social douchebag that wasn't worth the time I had already spent on him and his threat.
Although I did get nostalgic a bit, all this reminding me of what I did throughout the '80s and early 90s, I was an adult now and an IT Support Professional. I should hold myself to higher standards than I did back then, right?
In fact, I kind of felt pity for him and decided to let it slide, and even help him on his way to fixing his security a bit.
By the way, have a look at my sponsors! They're worth checking out!
I did two things, which I hope will make him think twice before threatening anyone again in the same way, as well as make him aware of the risk he's running with the way he has set up his home network and his total disregard for security and privacy online.
I created a text file TIPS.TXT and placed it on the desktop of his windows, on all user profiles in his installation.
In it:
I listed the security vulnerabilities his router, his Windows, his Jellyfin, his HomeCloud, his WordPress, and his Joomla were offering to anyone interested in hacking him.

I also informed him that his nickname, Facebook, and LinkedIn had so much public information that I didn't even need to hack him to make his life miserable

I suggested that threatening people online, especially threatening people's families, was a stupid idea when you're as dumb with your privacy and security as he was.

I repeated that he best make sure he never ever threatened me or my family ever again.
Then I changed the desktop background image on all his user profiles in Windows to the following picture: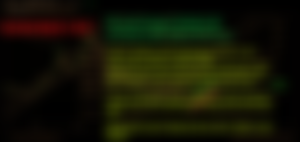 Of course, I've got his nickname(s), his address, and all the other information about him locked away in a document somewhere, tucked away in a safe place. Just in case he decides he wants to be an asshole to me again. But if I never hear from him again, I will never open that document again either. And if he heeds my advice in the TIP.TXT file, the task that runs once a week will return errors when it tries to print out my parting gift onto his printer. ;-)
Thank you for reading this!
Stay safe and stay happy!