A life here in Province
Hello my fellow readers, how did you spent your whole day today? I hope that your day was wonderful and fruitful. And I wish that your first day of Month of April was wonderful and full of excitement.
I was not able to create another article because of internet connection again. It will lost its connection especially when heavy rains fall or the weather is not good. We only used solar panels because electricity was not able here yet in our place since typhoon Odette came until now we are sacrificing and suffering black out.
Well, I just wanna share with you what did I've done last Thursday and it was the last date of the month of March.
This Morning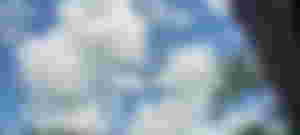 The weather was so good and also my morning was better. The air is so fresh and relaxing. The birds were chirping together with the noisiest sounds of cicadas.
I was the only one left in our house because my mother and my niece went to our farm to visit our newly plant sweet potatoes. I felt bored that is why, I cleaned all the surroundings full of mess. I did the household chores and fed my pets which are dog and cats. Then suddenly I got irritated because one of my pet cat has a suitor early in the morning.( Sana all may bibisita,hahaha)
A few moments passed by, I went outside and seek something to relieve my tiredness and this was what I've got.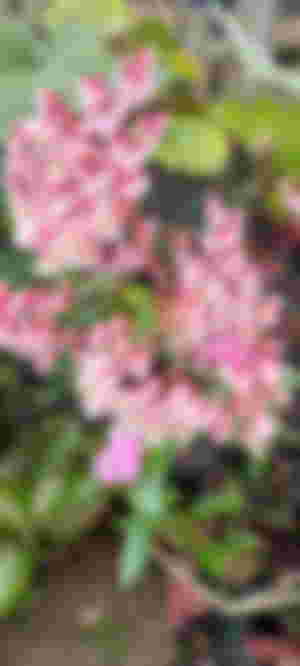 I just captured those flowers because of its captivating blooms and colors but to tell you honestly, I don't know what's the name of those. My tiredness vanished as I stared its beauty. One of my stress relievers and refreshers.
This Afternoon
I'm lonely, I asked my mother and Auntie's if I can go with them because they will go to the farm to harvest some sweet potatoes. Well, they let me to go with them. While walking going to the farm, I suddenly stopped because I saw something that catched my attention to captured and I am thankful that I didn't forget to bring my cellphone.
I captured this green leafy vegetables because of its fat and healthy leaves. This vegetables is one of the additives in making and cooking tinulang manok or ginataang gabi and more.
As we arrived at the farm, they started to dig and seek for sweet potatoes. My mother don't let me do so because I am pregnant but even though I am pregnant, I still dig and seek sweet potatoes because to tell you the truth is, I was the right hand of my mother when she went to our farm. I also helped my mother getting firewoods and carry those woods we get. I also plant gabi, cassava, sweet potatoes and etc. when I was not pregnant already. Well so much for that, hehehe.
At exactly 2pm in the afternoon, we went home and we were so happy because we harvested sweet potatoes. While walking, I captured the moment when my mother and Auntie's carrying those sweet potatoes we harvested and this was the images.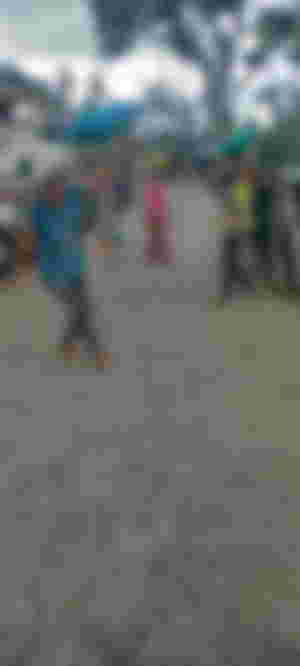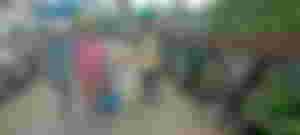 As we arrived in each our homes, my mother washed the sweet potatoes and cooked it. As minutes passed by, my mother served the hot and yummy cooked potatoes. We ate our snacks with a cup of coffee and milk.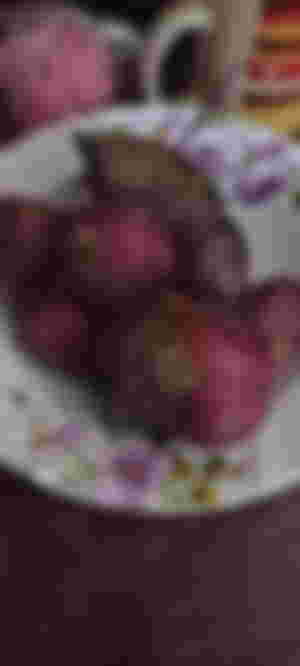 As we finished taking our snacks, at exactly 3 o'clock in the afternoon we went to our altar. We prayed the 3 o'clock prayer and prayed for the blessings we received.
CLOSING THOUGHT
I admit that we are poor and I am not ashamed that I was born and grow probinsyana girl. I am happy that I am a probinsyana, why? Because here in province, you will not be worried about foods you want to eat if you know how to plant and take good care of those plants. You will not be starve because you can harvest anything you want. As what they've said, " kung may itinanim mayroong aanihin" . You must learn how to be a hardworking one. Even how hard the situation is learn how to be strong and never forget to smile. Everyday we must thank God for the graces and blessings HE has given to us even if it is not much. Appreciate and value those foods and things we received everyday, especially the life that we borrow. Enjoy the life that we have today, as we are still alive.
Here in province, if you want peace in mind you can go to the farm or place were all your worries and problems will taken away. You can relax and enjoy the moment you want too .
We must not forget to thank God everyday. Until here my fellow readers, hindi ko na namalayan madaling araw na pala,hehehe... Gantong oras lang kasi malakas yung internet.
It's time for me to take a rest...
Thank you once again my readers and God bless us always.
Before I forget, thank you for visiting always @TheRandomRewarder for my article.