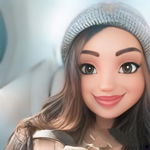 Hello everyone. How are you doing? I hope all is well despite the battles we face every day. I know it's not easy to fight but for the sake of tomorrow, we should keep going even it's hard.
By the way, let me introduce myself here, I'm Alyana, Kelzy's friend. Maybe some of you already heard my story and I thank her so much because she takes care of me at my lowest point. It's rare to find a person who will be there for you in downtimes and I'm lucky cause I got one.
We fail, we fall but the good thing is if we accept and take it as a lesson. Nobody is perfect that's why there is a word change. You can't change if you are already perfect.
Face your fear and stand for it, words you will hear from others to go on but hard to do because you don't know where to start. You're afraid that you might take the wrong path and make a mistake again. Thinking who will gonna accept you if that happens again? We know that not all families can understand and worst they will be the ones who will leave you when you most need them. We pity and blame ourselves for not being too good for them and only the walls can hear our silent cry.
Why I'm so dramatic about my introductory article? I get carried away, my apology. Hahaha.
To all of @Kelzy's friends who give me a hand in my problem, I owe you a lot! Thank you so much! I know I can't give back the favour because I just started today and have to explore here first, but I will do it for sure, soon. Hope you will be patient with me.
Can we be friends too even I'm so obsessed with tacos? Who can't resist its looks? Where all it wants to say is that "I'm yummy and you can have me" I can live if it is my food every day, who can't? HAHAHA
Do you also have an obsession with food? Where do you always want to see and have it?
Call me Aly the taco girl 😉 I will always be around so I hope we can get to know each other.