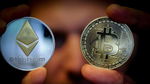 Canada has been approving crypto exchange-traded funds (ETF) more quickly than the United States and after three successful bitcoin ETFs, the country has approved three ethereum-based ETFs. The three ether ETFs in Canada will debut on Toronto's stock exchange (TSX) on April 20, 2021.
Back in February, Bitcoin.com News reported on the launch of the first North American bitcoin exchange-traded fund. A few days later, the fund called the "Purpose Bitcoin ETF" captured massive volume with $165 million traded at the time. The three new ether-based ETFs will be provided by CI Global Asset Management, Purpose Investments, and Evolve ETFs. All three will appear on Toronto's stock exchange (TSX) this Tuesday.
Both Purpose and Evolve already sponsor crypto ETFs, and CI Global Asset Management aims to join the fray. CI Global is working with Bitcoin bull and billionaire investor Mike Novogratz's Galaxy Digital. Novogratz's organization has also applied for a bitcoin exchange-traded fund that aims to be listed in the U.S. with regulatory approval.
The senior ETF analyst for Bloomberg Intelligence, Eric Balchunas, tweeted about the three approvals on Friday.
"Canada is approving three Ethereum ETFs to launch on Tuesday," Balchunas wrote. "Seems more fair than giving Purpose a crucial head start again. The SEC should/prob will do the same here," he added.