The first day of October was not a good start for me, Adrielle was sick and my partner got home overdrunk that he can't even go home without the help of others. But having that as start of the month doesn't mean that the whole month will be the same, NO ITS NOT! We can still make this month a better one.
And to start the positive vibes I start setting up the Christmas Tree that I bought yesterday, actually its Adrielles request, because her cousins house has set up their christmas tree, so I need to set ours too to feel the spirit of Christmas and give the happiness to Adrielle. As I set it up, she was by my side and really wants to help me, tho I don't like her to help because of the christmas light but she insists, so I let help me, she was the one who put the christmas balls on the tree.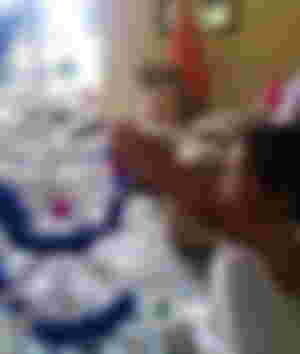 WOWWWW! CHRISTMAS TREE this is the word that comes out from her lips when I switch ON the christmas light, no one can measure the happiness she feels, as I can't measure it too, all I know is the pure happiness that comes from her heart, and whenever we ask her, ARE YOU HAPPY, she will reply YES I AM SO HAPPY and give us her sweetest smile.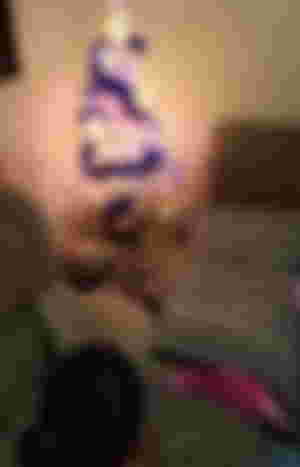 And from the day that I put the christmas tree she is always looking forward to open the christmas light even its daytime, but once I tild her that the light should only be switched at night time she understand it. She always stay beside the christmas tree, keep touching the balls, so I wonder if that christmas tree will reach the Christmas day complete, with lights, and standing because she keeps touching it, even I told her not to do so because it might be ruined, but kids are just kids they stoo for a while then later on back to what she is doing😀
---
A kids happiness is very simple, so once they ask for something and yet you can afford and it has alot of benefits to them, why not buy it. Just like what I did, Adrielle requested that christmas tree because she sees it from her cousins house, and I think it will help her feel the spirit of christmas even she was still young, I knew that soon, when she reach the right age and she saw a christmas tree, she will remember the day that I bought and we set up the very first christmas tree in her life.
---
Till then fellas(readers, upvoters and commenters), yesterday I did not published because I feel so tired roaming around the city for our stuff. So now I did my best to published one. Hope you like it or you don't like its okay😀Just be you!
To all my sponsors, you are all amazing and I love how you inspired me with your articles. May God bless you all a million times. Please do check the wonderful articles of my sponsors if you have spare time, you will not regret reading thier works.
Godbless Us All!
🌹AnnieMarie🌹
2021.10.04