Materials:
1 cup flour

1/4 cup besan

1 teaspoon ginger paste

2 tablespoons coriander leaves

1 tablespoon chili powder

Half a teaspoon of cumin powder

Half a teaspoon of turmeric powder

1/4 coriander powder

Salt to taste

5/6 tablespoon yogurt

Oil as needed

Water as needed
Method:
First mix the oil well with the flour, it will be a little crispy. Then mix all the spices in the curd well. - Then spread the curd and flour together well. Then make a dough like a loaf of bread with a little water.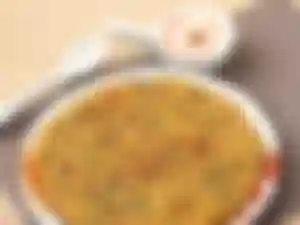 Then divide the bread into small pieces and take the sand in the shape of your choice. - Then heat the pan and fry it with oil or ghee. Yes, this time taste Gujarati with any meat curry or soup or mayonnaise. Now serve among family members. Please tell, whats the story of them big puppys .....If you like the recipe, please let us know in the comment box. And yes, try making it at home.