Materials:
Stock 10-12 cups,

1 tablespoon of oil,

salt,

1 cup of chicken and shrimp,

2 egg whites,

2 tablespoons of cornflower,

1 tablespoon of soy sauce,

1 teaspoon of testing salt,

1 teaspoon of lemon juice,

4-5 pieces of Thai grass,

4-5 pieces of chilli without beech.
Method:
Making chicken stock-
Take a small chicken bone and boil it in 10-12 cups of water with a little salt. When the water is half dry, take it down and strain it. This will create chicken stock.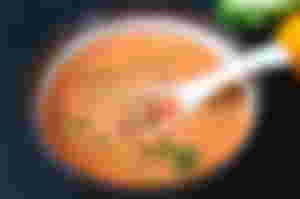 Make soup-
The hot stock should be boiled for a while with oil-salted meat, shrimp, egg whites, cornflower, soy sauce, tasting salt, lemon, Thai grass. Peel a squash, grate it and squeeze the juice. Now serve.