Materials:
500 grams of lobster,
Butter 8 tablespoons,
Half a cup of olive oil,
1 tablespoon of lemon juice,
Quarter cup, small onion crumbs
1 tablespoon of crushed garlic,
4 tablespoons crushed parsley,
1 teaspoon of black pepper powder,
Salt-flavored
Method:
Apart from the tail part, the shrimp should be peeled, cleaned, washed and dried. Melt the butter in a pan over low heat and release the shrimp. When the shrimp is light in color, stir it with olive oil and lemon juice.Garlic powder, salt and some black pepper powder should be given on the fish. The lobsters should be inverted on both sides and roasted.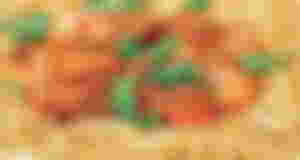 After a while, when the shrimp is fried, it should be taken out on a hot plate. After lifting the shrimp, the liquid in the pot should be heated for 5-10 minutes to thicken the sauce. The sauce should be poured hot on the arranged shrimps placed on the plate. Serve hot with some parsley crumbs and lemon juice on the fish with pasta or that kind of food.