Splinterlands | Part of Torum Guild | And Reintroduction to Brawls
Splinterlands has spread far and wide, and small communities are talking about the game everywhere. It is about time we name the game Splinterverse for traversing many writing sites, communities, gaming channels, YouTube channels, and more. At least, Splinterverse would be a real thing, unlike the numerous "verses" coming up in the virtual world today.
I like to connect with other writers and gaming enthusiasts on other platforms. Long story short, I did connect with one such community on Torum, and in a short time, I have my second Splinterlands account, becoming a part of that community's Splinterlands Guild. How cool is that? Two different sites discussing Splinterlands and finding common ground – not bad, huh?


Now, for the long story long - Hehehhe 😊. I always wanted to say that. I met a Torum user who also was on Splinterlands. It was all my battle posts on Splinterlands that attracted his attention. So, what happened next?
Let's find out. But before that, let's take a moment to learn about Splinterlands. After all, that's where you will find my Guild and me. 😊

Splinterlands is a digital card game that allows you to collect, trade, battle, rent, and even earn from the cards. *The game gives Play to Earn a whole different meaning.* By now, you would know that the governance token (SPS) airdrop made millionaires out of the early adopters. It still keeps giving and remains a fun and engaging game.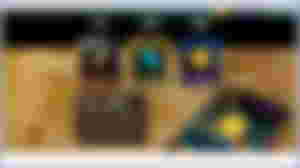 To give you an idea of how lucky you can get in Splinterlands, read my story of getting cards worth $500 from buying only a few packs worth $20.
Got Cards Worth $500 from $20 Packs
And this is just a tiny number. I have witnessed people getting uber-expensive cards in their pack and selling it for as high as $6500. In fact, there is a whole Splinterlands marketplace on the Hive blockchain and now on Wax too.
Any reason not to try it out? To join, scroll down quickly. 😊

It was "cryptofacthunter" on Torum who read my posts and commented on them. While the initial discussion was on the post, he did get on to check if I would be interested in joining their Guild. At that point, I had two accounts, and one of them was already in a Guild, but the second one was not. So, there was no rocket science in saying yes.
I joined a couple of weeks back, but I wasn't ready for the brawls. I have been on Splinterlands since 2018 but only started playing in 2020 and yet never looked in the direction of brawls. Why? Well, one of the reasons (or excuse) was that I could only submit my team at the time of the battle, and more often than not, these battles would be in the wee hours. It would be 1 a.m. or sometimes 3 a.m. for me to submit my team. I would obviously miss it and ended up dragging my team down. So, with my first account, I respectfully backed out of brawls. What I didn't know was that a lot had changed in the Guild arena.

I was carrying the notion of brawls being too difficult to enter, but that was incorrect. I don't know when the change happened, but battles in a brawl can be entered just once, and we have 48 hours to do so. What that means is I do not have to wait for the battle or the opponent to submit a team. Whenever combat starts, I can submit my team, irrespective of whether the opponent has submitted it or not. Then during the course of the 48 hours, depending on the opponent's submission, the battle will take place. That is so cool.


So, no pressure to wait for the battle or the opponent. Just submit your team for all the battles within the regular two-and-a-half minutes each, then relax. Whenever the battle happens, we will know the result - it takes off a lot of pressure, actually. And all this thanks to my new Guild and their ask to join brawls. Thank you, @awj (on Splinterlands), a.k.a cryptofacthunter on Torum. 😊

In just a week of joining the Torum Guild, my second account has done more successful brawls than my first account in two years. Ahahah, that is always a funny thing for me. But here is my opinion – if you think you can battle, the brawls are a cakewalk in comparison.
So, why not try out the brawls? You will love it. Not to mention the fact that you will earn Merits which you can use to buy Gladiator packs. These Gladiator packs are specific to brawls and cannot be used in regular battles. However, the packs do contribute to your Collection Power. It's a win-win, and both wins are in our favor. 😊
Go play and enjoy yourself. And if you are new to Splinterlands, you can use the link below to join. Have fun!

You can click below and follow the link. All the best!
--------------******---------------
Image Courtesy: Splinterlands Resources
--------------******---------------
Some Useful Sites to Give You More
Some of the good crypto-writing-earning sites:
Publish0x: Earn ETH || Read.cash: Earn BCH || Trodl
----------------------
Some good earning sites for Tweet size posts
Torum: Earn XTM || Noise.cash: Earn BCH || Tipestry: Earn Dogecoin, Dogecoincash & SuperDog
----------------------
Some crypto-faucets and jewelry earners:
Horizen: Earn ZEN || Mene: Earn $5 on signup || Earn Litecoin || Earn Bitcoin || Pipeflare: Earn ZEC, FLR, MATIC
----------------------
Few Gaming-cum-earning sites
----------------------
Spot and/or Futures Trading Exchange
Binance || KuCoin || WazirX || Bityard
----------------------
Search Tool That Pays in Crypto
----------------------