In one of the biggest news regarding the crypto cummunity , overledger the world first blockchain operating system  developed by Quant network will now be available on kyber network. In was announced on june 1 at the official twitter page of Quant network.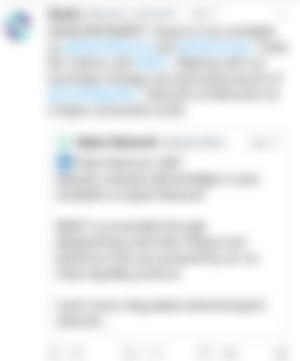 With this integration Quant Network will be running for the QNT token on Kyber Network. Enabling the Quant (QTN) token to be accessible through kyberswap and other DAPPs platform which are powerd by kyber network.
Quant is considered to be the future of blockchain operating system. Quant network is a legacy network that interconnect blockchain  for business applications  and other enterprises platform.
Quant token QNT is a cryptocurrency token based on ethereum blockchain that powered the  Access And Movement Of Digital Assets In The New Digital Ecosystem. And is intended to provide acess to the overledger network
Some of the partners of quant network includes Oracle, tech nation cyber, climate chain coalation, ukcloud etc.
Kyber Network is a protocol based on ethereum.And  is also the most used and integrated decentralized finance (DeFi) protocols in the world.This protocol allows exchange and conversion of digital asset and crypto token .In kyber network all the function are performed on the blockchain. It also allows swaping of any crypto token through any application. The main aim of kyber network is  to build a world where any token is usable anywhere. Using this protocol, developers can build innovative payment flows and applications, including instant token swap services, ERC20 payments, and financial DApps .To date, Kyber Network collectively supports over 70 ERC20 tokens. 
Overledger operating system will helps those financial institutions, governments, organisations and individuals across the globe by  benefiting them from the true potential of interoperability, choice and avoid lock-in. It also makes gateway for the  community and stakeholder to participate in the world biggest hyper decentralised network.With the help of Overledger Business workflows in every sector including Financial Services and  Healthcare provision, become faster, safer and more cost-effective