Hi read.cashite How is our day going? Well, mine is going well. Thank God it's Friday.
I love Read.cash because we LEARN📖🖊️, we ARGUE🗣️, we DEBATE, and we have fun. Yaaaay!!💃💃
Read this and let's hear what you think.
I HEARD 👂👂SOMEONE TELL THIS STORY Today At Home
There was this lady👩 that worked for an establishment🏣, Her boss 👩‍💼👩‍💼loved her so much, took her like a daughter, and was very nice to her. This went on for a couple of years and they never had a single misunderstanding
The lady👩 later got engaged💍 to a very rich man🕵️. So through the influence of the guy, her dressing changed. she started wearing designers👗👘 and looking nicer and smarter. Suddenly, the boss started behaving unkind😈😈 towards her. She changed totally towards her.
When it became unbearable, She then enquired🙋🙋 of her boss why the change of attitude towards her. That's how her boss👩‍💼 begin to ask her different kinds of questions o❓❔❓. The boss asked her where she got money💵 to get what she was wearing?👗👘, she explained gently to her that her new relationship had blessed her, but the woman still didn't believe her and refused to allow it🙅🏽‍♀️.
To cut the whole story short, it was a matter of choosing between THE JOB and THE TUSH DRESSING. Well, She concurred to the boss' demands, so she had to go back to the way she was dressing before😞🙇🏻‍♀️. Then Her boss started behaving nice to her again🤝🏽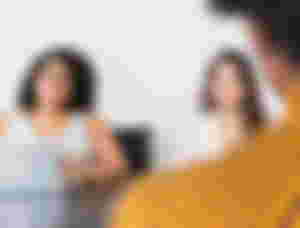 QUESTION
1. IF YOU WERE HER, what would you have done?
Resign from the job?, or continue to work at the job, but go back to your former way of dressing?
*(She has learnt a lot, and is still learning and gaining a whole lot of stuffs career wise. In short, she has a lot to lose if she quits)*
2. Do you think what the boss is right?
Drop your views in the comments section let's learn from each other.love you all