Today I will be teaching you how to make dinner bread rolls from your kitchen. If you want to have some independence from having to buy cakes and bread rolls, then join me
These Bread Rolls are were sweet, buttery, Soft, and fluffy. It's not only super easy to make, but it's also super tasty and addictive! You can make this even without a mixer and the ingredients are easy to find in your kitchen or any grocery shop.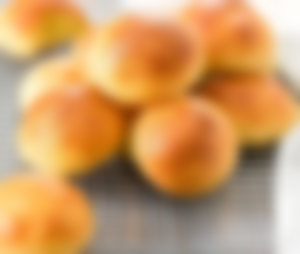 150ml milk (1/2cup + 2Tbsp)

30g sugar (2 1/2 Tbsp sugar)

1tsp yeast

1 large/medium egg

50g butter (3 1/2 Tbsp of butter)

325g ALP flour

1/2 TSP salt

1 extra egg for egg wash + 1 Tbsp of milk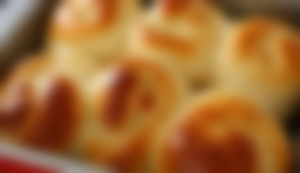 Prepare your baking pan, greasing it with veg oil generously and set aside. You can decide to use butter to grease the pan and use baking paper/parchment paper to lay the pan.
Into a mixing bowl, add in your milk, sugar,yeast, egg,flour, butter,salt) and mix together till it forms a very sticky dough.
Remove dough from bowl, and continue to  knead the dough on a work surface for about 7 – 8 minutes. You may be tempted to want to add more flour to your dough but don't do that, just keep kneading for about 8mins, and you will soon notice the dough is no longer sticky to your work surface and hands. But if after 8 minutes has elapsed and your dough is still sticky, then sprinkle some flour on the dough, knead it but if the dough becomes too hard, just add 1Tbsp of water to the dough and continue kneading till you achieve a stretching dough.
To know your dough is ready, just use both hands to pinch the dough, and then stretch it out gently till you get a thin like sheet, without the dough tearing at the center. But if it is tearing almost immediately you try to stretch it then you know the dough is not ready. Just keep kneading.
When dough is ready, simply roll dough into a long rope(not very thin, and long) then cut into equal halves, cutting each halves in the same quantity as the other. Then pinch each cut out dough, kneading it(pinching and folding it towards the center) to do a smooth round dough. Repeat for the remaining cut out and place them(ball like dough) into your prepared pan.
Cover your pan with a plastic wrap and place a kitchen towel over it. Allow it to rest for about 1hour. Then apply your egg wash with a brush over the dough, and place it inside the oven. Bake at 375 F for about 18-20mins. Bake till you get a light golden brown top.
After removing from the oven, Immediately apply butter on the surface while the rolls are still hot. And allow this to cool off completely then your roll is ready for serving.