This afternoon I decided to cook this delicious Nigerians Spaghetti. It was so yummy and I would love to share with my friends here. Let's go to the kitchen..
Today, we are going to learn how to make Nigerian delicious spaghetti and your whole family will always love it. Here is the ingredients and methods of cooking this delicious meal.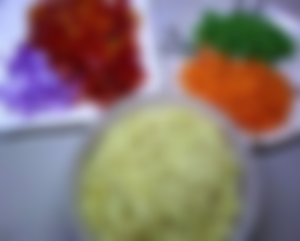 Ingredients:
●. Spaghetti (1 sachet)
●. small tin tomatoes
●. sliced onions
●. Fresh tomatoes
●. Fresh pepper
●. Ground Crayfish
●. knorr or maggi
●. Salt to taste
●. sliced carrot
●. Sliced green beans
●. Meat/fish or either (chicken, turkey, beef.. etc)
●. Green pepper (optional)
●. vegetable oil
Method:
1. Cut the carrot, green beans and green pepper to desirable sizes.
2. parboil spaghetti put a bowl, carrot and green beans in a plate, sliced tomato, onions and pepper. Slice cow-kidney and put in a plate.
3. Parboil the meat and fish with all the necessary ingredients I like to use just 2 cubes of maggi, salt, onions and maybe a little of ground nutmeg.
4. Blend the crayfish and slice the tomatoes/pepper together,
5. Break spaghetti to smaller lengths (serviceable lengths) and parboil for 5 to 8 minutes, wash and set aside. Pick out the Meat/fish when it is soft for consumption, you can choose to fry or not.
6. After frying the fish (you can reduce the oil if it is above 150ml before adding the tomato paste, fry and stir for 3-5 minutes before adding the sliced tomatoes/peppers and onions, fry till the water is dried, this should take about 10-15 minutes. (Remember to stir occasionally to avoid burning)
7. Add the meat stock and a cup of water.
Then add all the ingredients above (the ground crayfish, salt to taste then allow to boil.
8. Add the spaghetti and cook for about 15-20 minutes till it is almost soft then add the remaining onions, then the carrot and green beans.
Cover for the next 4 to 5 minutes. Yummy.. our delicious Nigerian spaghetti is ready. Serve hot and enjoy