Have you ever experience being ghosted or did you ghost someone?
Ghosting is a term millennials nowadays use which pertains to a situation when a person close to you, it may be your friend, someone you're dating, your boyfriend or girlfriend or even fiancée suddenly exits from your life without telling you about it first hand. They just disappear without any explanation.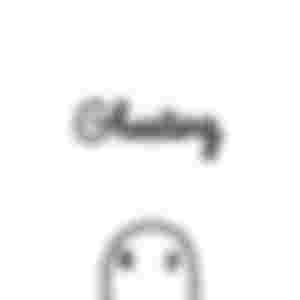 This is very common to the relationship nowadays specially with the drastic emergence of social media and internet which led to a past-faced way of communication. When the person you are talking to nonstop every day, the person you are having deep conversations from morning to midnight suddenly stopped chatting to you. No more messages, no video calls, no emails. They're gone, and you'll be left behind wondering what happened. 
When this happens, specially if you are the one left behind, this can be really devastating. You'll be left asking yourself a lot of questions. ?hat went wrong? Is there something wrong with me? Did I made a mistake? You'll be asking yourself a lot of unanswered questions, unanswered because the person you want to ask already made an exit - out of your life.
In dating, ghosting is actually long been a practice. Its just that people before haven't come up with the term, not until millennial netizens came up with it. They came up with a lot of hip terms to pertain to a specific situation in relationships and dating.
To be honest, I personally experienced ghosting someone and being ghosted too.
It's not a good story to tell, but I'll do it anyway.
Before, a lot of people are sending me friend requests on Facebook. That time, I was still reckless when it comes to the use of social media, so I just accept anyone as long as they look decent. Then I'll exchange messages with them, which led to getting close with a few. I'm just responding to their messages out of courtesy, but there are times that my courtesy goes wrong, specially with guys, they take it as I'm interested in them. And in the end they'll confess their feelings which I can't reciprocate. Sometimes it's hard to explain, and it's hard to be honest why I can't like them back. I don't want to poke a finger on the negatives in them, so I just stop myself from talking to them. I block them on social media, change my number or simply move their messages to spam. Furthermore, I feel bad doing that, so I seldom deactivates my account for several months.
Looking back, that is not a good experience either. I was immature back then, so I didn't know the pain that it might have inflicted to those people and I didn't know that it is already ghosting, at least not in my perspective, but maybe they see it as ghosting. Not until I experience being ghosted myself.
So there's this guy I became close to. It happened so sudden. I built an invisible shield for myself, so I won't be close to anyone, unless they're my friend. But one day, I just found myself so close to him. I tell him my fears, my dreams, and he was always there for me. Though I do not want to fall for him, because he doesn't reach at least  ninety percent of my standards. So I refrained myself from getting emotionally tangled with him. But eventually, I just found myself adjusting my standards for him. I focused on his positive traits instead. And I'm sure that I can already give him the chance he's asking for. Everything was going smoothly between us. And oh, we're not just internet friends. We personally knew each other. I'm friends with his siblings. But one day, he just stopped talking to me. That day when I already decided to give him a chance, he left and took an exit out of my life. He doesn't answer my calls, he doesn't respond to my chats. I'm not someone who's fond of going after the people who already left. I firmly believe that I should not stoop down low and chase people who don't like me.
Yes, it hurt me. Like I said in the beginning, it was devastating at first. I became used to talking to him nonstop, so I was not used to not talk to anyone at all. I missed our deep conversations. Not only that, but I missed sharing my worries and problems with him. But most of all, I was left wondering and asking myself what went wrong. I blamed myself. It was a roller coaster of emotions. I was glad that he did it sooner - before I fall too hard. I was confused and asking myself why he did it. I was mad at him for trying to get close to me, but in the end, he'll just leave.
But I have to move on, and it's not easy. There's a lot of things that reminds me of him - even a simple nail cutter, a song I heard on the karaoke, the food I'm eating. I paid so much attention to details, but those details only reminded me of him, when he's already gone.
What helped me to totally move on from that bitter experience?
I focused on myself and my family. I was not really close with my siblings because of the age gap, so I can't talk to them about love life or even my  emotions. I always view them as children, but I realized that they are already matured than what they seem to be. So instead of thinking about what ifs, I just spent more time with my siblings and that made me neglect the negative thoughts. And I got closer with my siblings.

Accept the reality. Instead of living in a fantasy that maybe he just needs a little time for himself, I accepted the reality that he may never come back and that he may have broken his promises. I acknowledged the fact that relationships sometimes ends even before it started.

Look on the positive. Instead of getting mad at him further, I focused on being thankful. Why? I was thankful that he did it sooner, before I fall in love with him to the point that I'll become really broken-hearted. He left when I was just ready to embrace him as a part of my life, he left when I could still save myself from heartbreaks, so I was thankful for that, and that's where I focused instead.

I stopped blaming myself. It was inevitable to blame myself at first, I blamed myself for not giving us the chance when he asked for it. I was firm with my decision that all I can him is friendship. And I told myself that maybe he got tired of waiting, waiting when I'll be ready. But I realized I should quit blaming myself. It's bot my fault that he left. If his feelings is really genuine, he could wait even years, or he can simply give more effort to show me how sincere he is, and it might've moved me to change my decision. It's not my loss, but his. He lost the perfect wife material he's looking for (lol).
Yes, it's not easy to deal with the feelings when you someone ghosted you, but there are ways to not continue hurting emotionally. And also remember that it's better to tell a person why you don't like them instead of just suddenly disappearing from their life. I've learned this through experience.