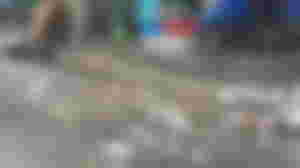 Throw there, Throw here, Throw everywhere – where. The Filipinos seem edgy to throw their garbage into the atmosphere. Most of our country is doing this as if our nature does nothing. Let's look at our surroundings. The former beautiful sight and fresh air are almost fragmented because of the trash mountains we leave and only abandon the road. Filipinos want to change in our beloved country but simply disposal of candy's skin candy cannot be produced. So I will none the other way about why the Philippines is third in contributing garbage around the world following Indonesia and China. This is one of the disturbing issues here in the Philippines. What can cause and consequences of disposal of garbage on false grades such as roads and canals and vessels -- what can be a solution to this issue to restore the beauty of our environment?
It seems that Filipino vocabulary is no longer in the Filipino vocabulary that is so passage of disposal. Why was it so easy for Filipinos to throw garbage on canals, rivers, seas, and elsewhere? First cause is the lack of education. We know that the Philippines has many problems in learning today as a result of a lack of teachers who help youth become educated and of course the lack of classrooms where youth learn. It is also a cause for the implementation of laws and rules regarding waste. There was no proper finish assigned to the roads, no waste management system slowly and the waste storage systems were gradually filled. But the root causes are hidden only in ourselves and that is what we lack of "discipline". Discipline what Filipinos need because of my perspective you will be educated if you don't have any discipline?
It is terrible and Shocking – the terrible impact can have an impact if we fail to accomplish and correct our false traditions. One example here is rapid flooding on the roads because the water vessels are already barren. Grey environments because it is in junk corruption gathered next to – next to one of the sources of the disease. Garbage makes the bodies contaminate that we could have drunk. Waste is also one of the big contributors to changing our climate change. When due to a skin candy you can occur all of the horrible effects. But it is not too late because we have solutions to help and not be able to revive the circumstances of our Mother Nature. One of these is the use of 3R – Reduce, Reuse, and Recycling. Instead of using plastic bags is reusable bags that we use. Our decaying garbage is to make the ground more entrenched than just thrown away. Recycled items are also good. Through these simple acts, we have saved, we have also contributed to the livelihoods of our creative countrymen, we have even contributed to the environment.
Our indescribable people make it possible for our nature and our nation to be destroyed. We must not wait for many more lives to be paid just to act and change. We too benefit from the poor consequences of our environment. Save our environment! Keep clean and Green!
Subscribe, Like and leave your Comments.