TInDOG: "Transcend cum Inclusive, Diversified, and Objective Goal-setting" Hampangan NHS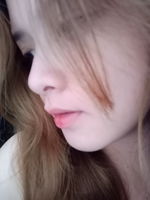 _______________________
What a successful project it was! Thanks be to God for sending an instrument to make this dream be realized in just a short period of time...
Good day to all of you my wonderful brothers and sisters in this community. How's your day? What makes you busy today? Hopefully, all of us end this day productively may it in real or in virtual world.
For today's blog, let me share with you an activity that we attended last Sunday, November 06, 2022. This was to give thanks to all who have rendered their time and effort to make this celebration come to happen. And I very happy to witness this momentous event.
Before we proceed to the main topic let share with you the main reason behind this celebration or "Thanks Giving Day Ceremony."
For all you know, its almost a year already when typhoon OdettePh hit us, mostly in the areas of Visayas. Remembering those time really gives me the feeling of fright or fear about how was that catastrophe greatly affected the people. That punishment wrecked the homes, facilities, and lots of lives were taken.
Speaking of which, our barangay was one of the areas who experienced the great punishment brought by that typhoon. In addition to global pandemic, this brought a huge burden to all especially to the lives of our dearest youth who are working on building their future through attending school. Our school buildings were completely ruined by that typhoon and as a result, during the announcement of limited face to face classes, only our High School didn't manage to start it and just continued doing the modular one. We also heard that one of the leaders of the district decided to close the school but fortunately, there was this one member who stand firmly, fighting to keep the school, especially that the school has a huge number of enrollment than the others.
Here comes a newly directed School Head of the school who really did her best to rebuild the school again. With her great enthusiasm, the dreams of the people here to keep the school and give a new face of it was realized. She leads her teachers towards the success of rebuilding the makeshifts alongside with the help of the people in our community. And like I said, last Sunday we finally witness the Thanksgiving Day ceremony in appreciation for all the efforts, time, and treasures rendered by the people who have given support to this dream.
The program started around 1 pm yesterday which was attended by the faculty and staff of the school, the Parents, Students, Barangay Officials, visitors from other schools, and the people in our barrio. Some faculties rendered their Words of Gratitude towards the people behind the success of rebuilding the makeshifts. They also allowed us to know who were the generous sponsors and the amount accumulated for less than two months. Just wow! For less than two months, the school gathered an estimated amount PHp 350, 000 or around $ 7000 dollars as for the donations, in-kind, and the man hour converted into cash. After which, a short video was presented by the School Head during her speech of how the entire days and nights were spent for the makeshifts to be built again.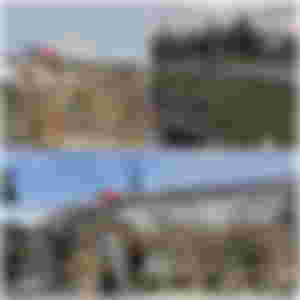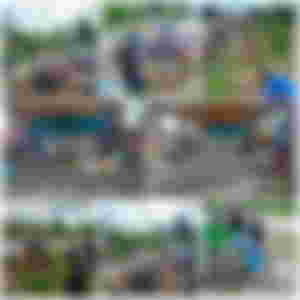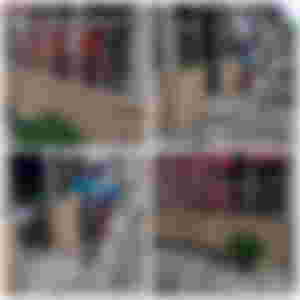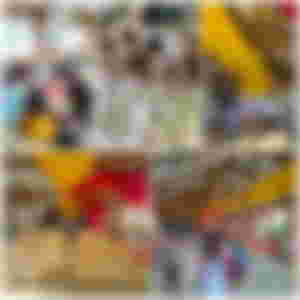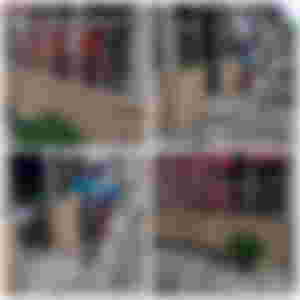 During her speech, she told us to spell the word "team." Everyone of us loudly said, "T-E-A-M!" And she said, "let me spell it for you, "Together Everyone Achieves More!" She also shared to us a bible verse from Colossian 3:23-24, "²³And whatsoever you do, do it heartily, as to the Lord, and not unto men; ²⁴Knowing that of the Lord you shall receive the reward of the inheritance: for you serve the Lord Christ."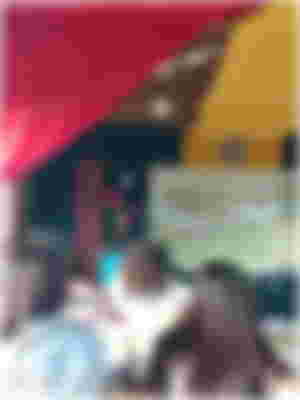 She was filled with happiness and gratitude in her heart seeing the progress of the project TIndog (Transcend cum Inclusive, Diversified, and Objective Goal-setting) Hampangan National High School that she initiated. I was just amazed of how she successfully fulfilled the dreams of the people in our community through showing her skills in leadership. (claps for her) We are very blessed for God sent us her to become the instrument to achieve this milestone.
Meanwhile, after giving her words of gratitude, she also announced the new project that they are planning to build. As she said, "as long as I am the School Head of this National High School, I will continue serving this school with all the best I can." And she really started it again. She proposed a new project, "Portal of Hope" where "even the last, the least, and the lost find a home." And as a matter of fact, they were able to gathered PHp 2000 or $50 dollars already as the first donation for this said project. Amazing, isn't it? After her speech, the selected students showcase their talents by rendering to us a dance presentation. After the presentation, one of the teachers rendered his speech as a closing remarks for the event wherein he shared his sentiments.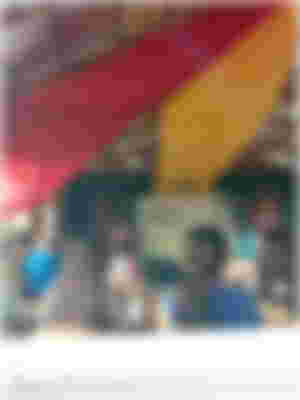 He also said to the students about how hard was before when Hampangan National High School was still just a dream. And I am one of those who experienced the great deal of attending a far away school. I got a teary eyes remembering those times that we just barely walk for almost an hour just to reach the school for us to be able to study at our Junior High School years, (that time Senior High School was not yet realize.) Yes! Even when it rains, even we went school and went home bare footed. And with that, having Hampangan National High School, the students will never experience the hardships we experienced during our High School Days.
In addition to the project, the Barangay Officials made their move towards the success of applying for the title of the land, so that the Senior High School Buildings can be started to build also. As the speech about to end, he left a words stating, "When their is teamwork, heavy loads can be light." And that was shown here, for all of us have rendered the three Ts, "Talents" that includes, the skills and labor force, "Time" and "Treasure."
After which, a Fellowship Dinner follows wherein an acoustic jamming session was rendered by us while the guests partaking their foods and picture taking follows.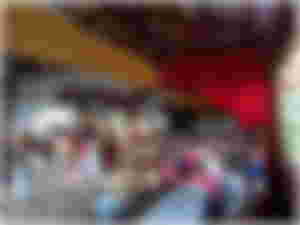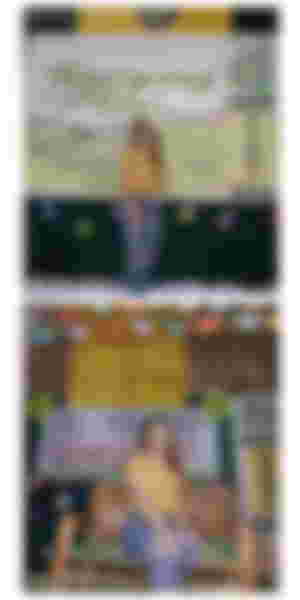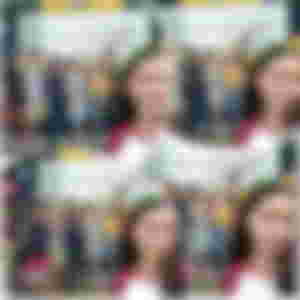 _______________________
Ending Thoughts:
All of us, as members of the community were really grateful for this successful project. And hopefully, the newly proposed project be successful too!
"Tunay nga'ng kapag may pagtutulungan at pagkakaisa, may maganda itong maiibubunga." My salute to all the stakeholders and trusted partners for giving all the means they can to make this dream come true, especially for the sake of our dear teachers and students of this National High School.
That would be all for this blog. Thank you for your time. (Hugs and Kisses!)
_______________________
_______________________
My warmest thanks to all my avid supporters; readers, upvoters, sponsors (old, new, and renewed ones). It is my pleasure to have you and become my inspiration and motivation as I go on to this journey as an online writer and a blogger. Thank you for your undying love and support, and for showing how kind and generous you are. Thank you for making my read.cash journey a wonderful one. May this platform last for a long period of time and our friendship, may on virtual or not goes the same. May the Lord our God bless us more days, weeks, months, and years to come!
_______________________
Blog Title: TInDOG: "Transcend cum Inclusive, Diversified, and Objective Goal-setting" Hampangan NHS

Author: @renren16
_______________________
PREVIOUSLY PUBLISHED ARTICLES:
"And it was a Success!" https://read.cash/@renren16/and-it-was-a-success-7a88e10b
"Volleyball Training Camp" https://read.cash/@renren16/volleyball-training-camp-4872ef36
"It will Only Add the Tension" https://read.cash/@renren16/it-will-only-add-the-tension-365284a3
"Starting the New month being Demotivated" https://read.cash/@renren16/starting-the-month-being-demotivated-22bdb841
"Side Hustles: Great Blessings of October" https://read.cash/@renren16/side-hustles-great-blessings-of-october-55a342c7
_______________________