The remarkable architecture of the School & College premises where I Studied for 12 years!
"Time changes everything except something within us which is always surprised by change."
I visited my school and college premises after almost 10 years, which reminded me of the quote I shared above. It looked so different from every angle. I couldn't recall where our class used to hold. Though some of the old buildings are the same. But the premises looks very modern in general.
I'm talking about Cantonment Public School & College, which is located in Rangpur - Bangladesh. It's a very renowned educational institute run by Bangladesh Army. There are a few Cantonment Public schools in another district also. They are famous for their rules, regulations, and quality of education. I can proudly say, it's one of the best in my country and the best in my region.
I studied there from pre-one to class 12. Can you imagine how much I'm connected to this institute? It's like part of my heart.
After so many years, I got the chance to join a meet-and-greet session of my batch a few months ago.
Let me share some of the photos of the premises along with my nostalgia and recent memories.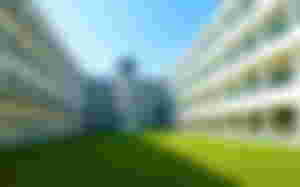 This is the entrance to the premises. There are three different premises in the same boundary. One consists of a school and a college which teach in 'Bangla' (our native language). And the other part is an English medium school and college. Also, they offer a Diploma degree too. Here's the Wiki link of the institute where you can find more info.
The premises is one of the largest in the region too.
I know it's not related to architecture and design but I couldn't resist sharing the huge playground of the institute.
I have so many memories there. I used to be a part of the Girl Scout Team. Every year, during sports time, we used to work as volunteers in the program. Also, I took part in many sports events too. Now those days seem like a dream!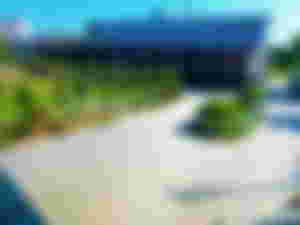 The building used to be a Two-storey when we studied there. Also, the college section was not so large. The time when I visited there, I noticed how they keep the continuity in the design. The round shape you are seeing on the stereo side, keep the same on both sides.
To better understand, I would say, the building used to be 'U' shape, but now it's in an 'O' shape. It looks very synchronized, doesn't look like one side is done after almost 15 years.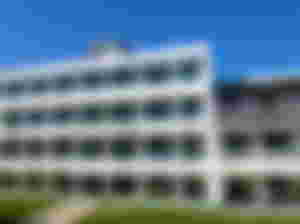 The first building is constructed in 1978. Back then it used to be only a tin shade. Can you believe me if I say, we used to sit on the ground when we first started our pre-one class? I'm talking about late 1995. As per I can remember, after a year they constructed the first school building. Before that, there was only an academic building and a small building for higher classes.
So, this building was constructed around the late '90s. Compared to its outlook, you can say it's not 'too modern' but has a remarkably modish countenance.
One best thing about the institute is, it's always very neat and clean. The school teaches the students discipline, rules, and regulations very strictly.
The premises consists of a playground, a kids' play corner with different rides, a huge auditorium, Martyr Monument, housing facilities for academics and officials, etc.
We were there till the evening. After our meet-and-greet program, we roam around the premises, went to our old classrooms, and took photos. It was a charming day with a lot of old memories.
Usually, visitors need permission to enter the premises. As I said, it was almost 10 years, we got the time and chance to visit there. I don't know when will be our next visit but I'm sure it will not be anytime soon.
These photos and the memories will be cherished for a long. I hope you like the photos too.
Have a good day, everyone.