The game continues in the hot and windy area of the PFF National Training Center in Carmona, Cavite as we approach to the remaining few matches of the tournament for the Copa Paulino Alcántara. Table toppers Kaya FC - Iloilo will take on Stallions Laguna FC. The Lagueños are at the bottom table next to Mendiola FC, and on the brink of losing their title shot with a record of 2 draws against Mendiola and ADT, and one loss against to the recent newcomers Dynamic Herb Cebu FC.
With Kaya's Starting Eleven, Simone Rota will take on the helm as Captain for this match, while Jovin Bedic, Oskari Kekkonen, and Sandro Reyes were called up for the upcoming SEA Games in Hanoi, Vietnam. Also, newly signed Patrick Arthur will make his first appearance and debut of this tournament. Stallions, on the other hand, Yannick Tuason earned the spot for his team.
As we look into the Copa Standings (image below) and for the previous results from last Monday's (April 25) double header, the Cebuanos are in 4th Place with their 1st win against Stallions, and an automatic win against ADT since the match from last Thursday's match didn't go through and for the young Azkals are about to head over for the SEA Games. ADT on the other hand are now in 3rd Place after the 3 - 1 victory against Maharlika Manila FC. Can Stallions turn the tide to make a spot in the mid-table? Or will Kaya can show their dominance to defend their title?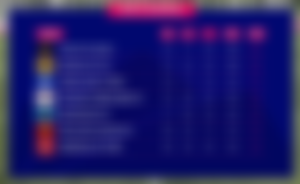 3 minutes after Kick Off, a free kick was given to Kaya when Jhan-Jhan Meliza goes for a pass, as the ball went into Simone Rota followed it up with a header. On target and an early chance for Kaya, but it went to hit the right post. 6 minutes later, Jhan-Jhan Meliza, again takes on the free kick and goes for a long pass inside the box, Carlyle Mitchell connects through a header making it 1 - nil.
9 minutes later into the 1st Half, counter attack for Kaya and another assist from Meliza as he goes for a long pass to Shirmar Felongco. Great first touch and manages to chip the ball over to Hayeson Pepito, then hits the back of the net as Kaya are on the lead with 2 goals to nil. However, Felongco got a Yellow Card after scoring that goal then takes his shirt off to celebrate.
Never celebrate a goal when you take off your shirt or else, you'll be booked by the official. In the 28th Minute, after 2 assists Jhan-Jhan Meliza makes it triple the lead after a long pass from Carlyle Mitchell. Seconds before the Half-Time whistle and during stoppage time, Daizo Horikoshi, the tournament's top goalscorer wants to make it 4 - nil, however his shot was too powerful and went over the bar after a short pass from Meliza.
As the half time whistle blows, Kaya are on the lead with 3 goals in favor of Carlyle Mitchell, Shirmar Felongco, and Jhan-Jhan Meliza. As we go into the 2nd Half, in the 53rd Minute, it's the Lagueños' turn to pick up the pace when Ybanez goes for the cross from the left flank looking for Griffin McDaniel.
On Target shot, but Kenry Balobo manages to save the ball and hits the deck. A great opportunity for the horsemen however, 7 minutes later as the ball went loose intercepted by Stallions, Abou Sy dashes it in and goes one-on-one with Balobo as Stallions are now on the scoreboard.
10 minutes later, an entry pass from Abou Sy to Belgira as figures it out on how he can pass through Kaya's backline. As he positions himself a few meters away from the goal line looking for Matthew Nierras, and within close range Nierras makes it double. The horsemen awakens and only 20 minutes left before full time as he rally up his squad and prepare for the equalizer.
Seconds after the 71st Minute, Stallions, again with the attack. Ybanez looking for Marwin Angeles followed it up with an attempt to make it even, but Kaya was able to defend that shot and another opportunity for the horsemen to equalize but unable to do so. As for Kaya with only 19 minutes left before full time, they have to dig in and hold their posts while Stallions have to create more opportunities, and chances to pass through Kaya's defensive line.
At stoppage time with additional 3 minutes, Stallions were given a corner kick. As the ball went into the penalty area, Kameron Bolden attempts for a shot, but went to Gabriel Silva as he attempts to make it even but was too wide, then was knocked down after. Both teams are down to 10 men when Carlyle Mitchell and Kameron Bolden were sent off after a heated tension during the final minutes of the match.
As the final whistle blows, Kaya FC Iloilo with 3 goals dominating the 1st half while Stallions Laguna managed to get into the scoreboard with only 2 goals at the 2nd Half. Up next, the brave sons of Mendiola FC 1991 going up against Dynamic Herb Cebu FC.
Lead Image from ©Kaya Futbol Club's official Facebook Page.