How to turn a lady on without touching her.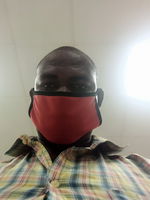 My fellow men will really understand and appreciate this because as easy as it seems, to turn a lady on is not a simple task. It takes a lot of effort and diligent planning to be achieved. But, some guys are lucky on this aspect. That's great! What of majority of men that can't achieve this feat? This article can be of help!
There are five things to do: they are:
Wear a sweet cologne. As bees are attracted by sweet scent of a flower that's also a magic to many ladies. There's something in perfumes and Cologne that tells a lady more about you, then she draws closer to know and feel you too. Spend some cash on this and thank me later. Bad odour from a man, no matter how wealth and resourceful he is, can scares ladies away. And that's not good at all.
Whisper to her ear, Ladies are highly sensitive and those nerves needs to be aroused. One of their part of body that's heavily endowed with nerves is their ear. They really wants to hear good things just as men wants to see beautiful and curved ladies. Whisper sexily to her ear and be gentle and kind in doing so. Make sure that you had a good breath while doing so. Bad breath irritates everyone and ladies get upset with that. Maintaining good breath can works magical to your girl and whisper sweet words too. You are the most beautiful woman in the world and you look sweet are some of kind words that she wants to hear. Whisper sexily and mean your words because she wants to be convinced too. Such words will "wet" her and allow her to flirt with you. All you needed at that time is a secure place to do your thing . Hahahaha!

Call her early in the morning: A lady needed to be care and she appreciates it a lot too. She will be aroused more when you call her early in the morning. This timing is very important because she will know that you really care for her and she is the reason of your sleepless nights too. She will fall for you and thinks about you along the day and opportunity of being with her will open the legs wide for you. Deep and Bristone voice of men send a romantic signal to a lady too. The voice of men becomes more deeper in the morning than any time of the day, so it's better to makes such calls that time to tell her how special she is.

Cook for her. She needs to know that you can take care of her and the kids when she is weak and sick. Although not all men can cook but ladies fancies it a lot. When she watch you, cooks for her and see as your cut, steer and fries etc. She will be imagining how you will carress and touch her too. Ladies even feel free and happy when a man wash plates and chat with them in the kitchen, how much more when that man can cook a delicious meal for her. She will just met and wait for you to finish in the kitchen and handle her in the other room too. Hahahaha!

Take care of your body. It's time to get rid of excess fats and build up muscles. With your money and fortunes, a lady can overlook you and go for an athletic and build up man. Although it takes a dedication and efforts, you can do something about your body to improve your physique. Ladies feel safer with such a man and spend their resources on them too. You should know what their "resources" might includes.
Although these points are wonderful but can only works wonderful when a lady already found you interesting. Your character and generosity always makes you attractive so treat them right because they need such care. They are angels and should be treated with respect, love and care. Thanks