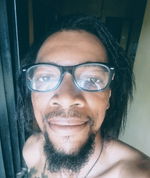 In the greens or in the reds?
...hopefully in the green. Getting stucked for hours in a heavily congested commute ain't fun, the busy easter feastivities has been all action packed with less thrill sequels in the wall streets. Stock indices been between the devil and the red blue sea, hopefully a stretch of the next 4 hours EMA would path the way for clear waters from it's parabolic Bermuda triangle wave beats into an upriver sail.
They say if her lips big and thick, then her lyric drip game is dead-on 6 feet deep lethal, the $TRX crystal nail drip getting some really nice green face mask and cucumber sliced eye blinds pedicure right now. It feels like it was only yesterday that $TRX being getting ping pong-ed from whatever high it was back to the constant $0.03 mark it's been housing for years. But the blinds tend to unveil something new to the backdrop this time around. Seems $TRX is taking a new shine to an ATH as of current $0.13 per unit, hopefully it creates a great lead on there and spring even higher above the next resistance line.
Bitcoin Cash on the other hand has been getting regulated down to division 3 since how long...like forever. Umm, can't really say what's the deal but hopeful this second quarter would send it back sitting on the table of the big league players soon. Can we see $BCH hit $700+ in this new quarter? And maybe the new hovering around net stand be somewhere around $600-$550 till the next rocket shot for the moon.
The dip of $BCH on the charts could possibly be owing to the fact that there really isn't any real valued platform to foster real world use case functionality or high value utility operability as at of this moment. I would like to think Read.Cash as of now is still the only real world applicable platform for Bitcoin Cash, however rusty still might need some tweaking and chip upgrade to be more spider-sensitive to underlining CSS debris as far as algorithm crawling goes.
Noise.cash would have been dope, but it does really suck often times that most of the notifications you get are spored from new and suspiciously spammy accounts, like you'd just look through a page and you had see a series of random-totally meaningless arrays of alphabets with no significance of whatsoever getting tipped. I guess that's one of the many reasons why noise.cash saw it fit to roll out a new metric of distributing free tips to users based on the quality of the content. Good redirection, but i feel like the picture post with one line caption being deemed low quality is just a bit out of frame, wouldn't you say? I mean the picture on its own already have a thousand words to say, seriously though, in as much as the one line caption gets some serious brain it shouldn't been knocked off as unworthy of free tips consideration.
While other cryptocurriences are baton changing lanes to reach for the moon, $ADA seems to be spiralling around a space station refueling for it's next orbit slingshot for the moon. Since Cardano 360 the February edition to Cardano 360 the March edition it's been a futsball move seeing it rally to $1.68 back to $1.22. In more recent times it's been a merry go-round refresh tossle back and forth between $1.22 to $1.18 for a couple of weeks consecutively.
I guess the new Mary Hard Fork look is still slowly getting wardrobe picks as people are yet to get a fashion sense of the scalability and coin printing issues it addresses. April 1st, marked a new milestone for Cardano, as of now Cardano is fully decentralized and as such this is great news for stake pool operators and $ADA hodlers alike.
What could this mean for stake pools? Hmm could probably mean minting more blocks per epoch thus meaning more staking rewards for each pool delegator.
If you new to staking $ADA or looking for a unsaturated pool to farm and harvest your $ADA rewards, join me on Husky Pools.
Bitcoin has been so namastay and been playing the doji star for since i can remember, i mean since some date night in March. Can Bitcoin match the $100,000 touch down yard this new quarter?
Whatever happened to those $1400 price tagged stimulus checks? We was hoping a chunk load of it would be flooding into Bitcoin and other altcoins. Well i guess with summer and spring break activities that spotlight could be hitting a different stage.
Has the new quarter been kind to you so far? You can let it rip at the comment boxes below.
If you looking to add some more crypto tokens to your wallet, i got a little easter prezy for you, click this link unlock your easter egg.
Binance Smart Chain has been sort of a massive market changer in the Nigerian cryptospace since the ban of Nigerian banks granting access to cryptocurrency exchange operatives in it's vicinities. But still the issues of little or no knowledge about spots trading, unavailability of adequate access to market indicators to support better trading pair experience and stressful vertification phrases...would it be right to say Bundle Wallet is the next best solution to mirror transparency and accountability for peer to peer crypto transactions?