What makes you happy?A mother's Love
Hello ! It's 9:15am here in the Land of Kuwait and I just woke up but I just want to write article and back to sleep again. We stayed up until 3:30am to serve food and we need to sleep more and continue working at 11:00am.
Just wanted to say thank you to my beautiful sponsors and for always supporting me in my not so good articles haha. God bless you all !
Okey let's talk about What makes you happy now? For me all I can say is the most person's makes me happy is my two little boys. Maybe they came in my life in the age that I am not expected to become a mother but years and years pass by now I know I can't live without them. It's like they are my life ,my air to breathe ,my strength ,and my energy that says keep on going because they have me and I have them.
I may not expected them in my life before but I know God blessed me with two little angels. They are the reason why I am so happy everyday ever though I missed them so much,and it kills me not to hear their voice. But as I say they made me smile everytime I remember how they smile ,how they become so naughty ,how they sometimes bully me haha and how they become so extra sweet . All about them makes me happy.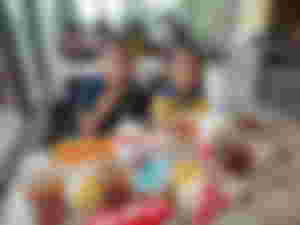 As a mother ,what makes me happy? Is that everytime I saw them happy eating their favorite foods . Everytime we had time to go and either swimming pools or a food they liked makes me more happy ."Makita ko lang sila na masayang kumakain sobrang saya ko na". That's why we are working so hard to give everything they want.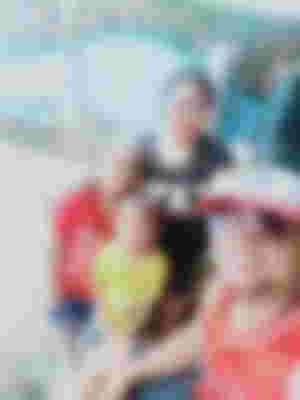 Favorite destination they really loved the most. They don't like to go to mall but bring them to pools that makes them so much happy. And as a mother seeing them so much happy really melts my heart. Small amount of money for every 15days bonding at the pool is not that bad .
Closing Thoughs
Being a mother is a lifetime job. What makes us happy is that seeing our kids growing up with a heart full of love. Feed them love and they will do it to their family too. And my son's are my lifetime happiness and my life.
Hey guys this is just a quick update for me . Ramadan is still going and we still have I think 11days left if I am not mistaken and more sleepless night to come. But good thing is our employer is not greedy when it comes to food ,he let us cook for our own foods in day time because they are still sleeping .Thank God for giving us good employer that's why I can't make more time here on read cash because I don't want to abbuse his goodness and I hope you all understand. I can't even read some of articles now but after Ramadan maybe I have enough rest.
INGAT !