Tired but never surrender: Ramadan Karem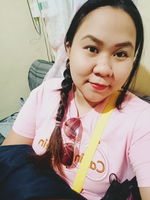 It's our first day here and I am already tired but surrender is not my option. 15 hours straight and we are still awake. And now the time is 1:10am and we need to serve food for our boss and wait until 3am if everyone already eat we can now have our rest.
The house is so big well I can say it is a huge house and me and another Filipina. A filipina here almost spend her 8 years working in this family and yes they are good. But you need to clean the mansion everyday haha.
Ramadan for a domestic Helper like me is not easy , it's so hard and tiring but this is the tradition we need to follow and ofcourse this is our work so be it.
Morning Routine , we wake up almost 10am and eat our breakfast and after 30minutes we need to clean the whole house , and if I am not mistaken we clean the house for 12hours but not totally done. Because we prepare foods for them starts 6pm upto 3am . Oh divah sobrang busy namin dito na side. But if you have goal in life you need to endure everything and don't mind anything just to reach your goal. And speaking of goal , what is really our couple goals why we are here and why we need to reach those.
This is one of the reason we wanted to go here abroad to save and invest. Why? Because we believed in cryptocurrency and we believed this is the way to make our life financially stable soon. And we are praying for that and claiming it.
AS a normal people we have also our debt to pay so for us to continue life that is no good and harmony to others we need to pay our debt while investing slowly and little by little .
WE decide to go ofcourse because we have 2 son's that need to support .Foods,studies and many more. So never give up and we will keep fighting just for them and their future.
We have a small online business and I will continue that one maybe 4months from now if I have enough money to start again. This is my job back them and I want to work online soon .
This are the major reason why I need to work hard and even if I am so tired I will not surrending. I will keep on moving and moving until I will get what I really wanted . Or our Goal as a couple rather.
Closing Thoughs :
In life we really need to experienced the hardship for us to really appreciate the seeds we planted. To harvest it with good fruits that will feed as in the future. Life is not easy but always remember to rest and not to quit. To pause but never ever surrender .
THANK YOU SO MUCH FOR ALL WHO SUPPORT ME ESPECIALLY MY SPONSOR. AND SORRY FOR NOT BEING ACTIVE I WILL MAKE IT UP TO YOU SOON AFTER RAMADAN .
INGAT!