Hataw
Hataw is a Filipino word means giving all you've got, most particularly when dancing.
In our University, we have this yearly tradition during Foundation Day Celebration. Aside from different activities like sports, parade, LitMusDa, Rave Party, and others, one of the most highlighted event is Hataw. Hataw is an event that consists of Junior Students all over our University-from different campuses that will dance together in our open field (we call it Oval) where most event takes place.
Last 2018, as I entered the University we are required to participate on this. A month before the celebration, the steps for the dance will slowly thought to students during our P.E. class. We will first practice by class/block. 2 weeks before the celebration, we will practice together with other courses and then a week before the event we will practice whole day, ALL 1st year students. 2018 was the 49th Founding Anniversary of our University, that time our props are pompoms made from aluminum foil, one is color red and the other is blue. We also wear white shirt and short.
Unofficial video of 2018 Hataw
This is a video I found in youtube, Hataw 2018 and yup I am one of those bunch student dancing and dancing hahaha. This is just a glimpse because as you can see the speed is not normal hahahah and it's just 2mins of less I can't find the official one where we actually dance for 14 mins. Gosh it's tiring, from step memorization to practice under the sun (huhu) but as we perform and hear the shouts of audience it felt more worth it.
During my 2nd year, I thought we are not going to participate because last year only first year students are required. But then as they announced that all first and second year students are required plus the highschool students in our University, I feel stressed hahah. 2nd year is really difficult we have a lot of major subjects that time so it's really a hassle for us. Another thing is we are required to wear that yellow socks that suddenly the price skyrocketed because of the great demand from students.
Our props this time are pompoms both gold, yellow knee socks and our P.E. uniform.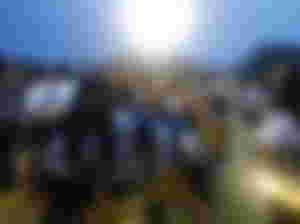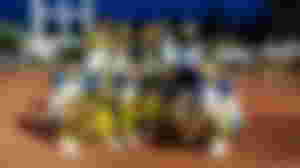 Pictures before the dance started because after the Hataw we are all soaked in the rain haha We continued dancing even it rained really hard.
Unofficial vid. But I love this because our shouts are also captured. Most shouts are unplanned but it looks like it is and I am really proud. This is pre-pandemic period and yup because we are celebrating 50th Foundation Day of our University, everything's gold hahah
This is the official vid posted by one of our Univ's org. Some of the shouts can't be heard here though since they edited it and stuff because if you watched the first vid we experienced technical error there. Even the camera is fogged because of the rain haha
How I miss this kind of events. I feel sad for my juniors as they didn't experience this because of pandemic. It's tiring but indeed fun and I will treasure this moment as I leave this school.
Actually this Hataw vids get a lot of attention because of the huge number of students dancing and shouting in sync. It become an example of unity. You see, during this time I got lost hahah I mean I end up beside someone I didn't know but we just go on and dance laughing at each other. Also there are memes circulating saying a lot of students yet they are still single lol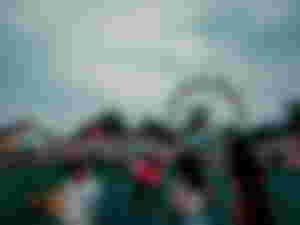 Another part of celebration is this carnival inside our school. This stayed for weeks and yeah I was amazed because I only read this on e-book or wattpad haha that they have this kind of rides during Foundation day and then I got to experienced it.
These are just some that I'll miss and this is Hataw-one of our University's Traditional Event 💛
Thanks for being with me!