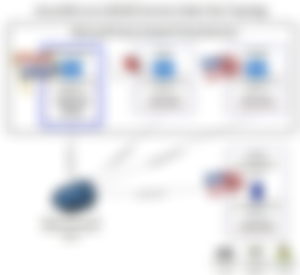 Happy Independence day to our US friends!
And greetings to our global friends.
As part of the decentralization efforts behind Cardano, we officially throw our hat into the Cardano Shelley Incentivized Test Net. That's right, we have a stake pool (Node, in the new parlance) on the Shelley Test Net! We are open for business. We've asked some of our friends on the network to grant us some test ADA so we have enough to produce blocks and are excited to mint the first one.
Here are a few things of note:
We follow best practice:

1 Node, with 2 paired relays

These are all on separate Azure virtual machines

We are leveraging a number of resiliency features built in to Azure, and will continue to enhance this over time, to give our delegators more protection afforded than a simple basement server setup.

All are currently located in Seattle, Washington, USA, but as you know, we have over 50 regions around the world we can quickly move our server to, for maximum performance and decentralization

We leverage the Cardano Community automation, developed by some of the top pool operators https://cardano-community.github.io/guild-operators/Home.html

This gives us a dynamic list of peers that are ON, and removes any that are OFF, keeping a list of working peers to stay up to date most effectively.

We will be testing the awesome JorManager software, developed by our friend, Andrew at Blue Cheese Stakehouse pool (BCSH), for even better visibility into the performance of our Cardano infrastructure.
As you begin to delegate to the new Cardano Shelley network, please consider cardano staking with us.