Vitalik Buterin Thinks Meta's Metaverse Will Fail
Ethereum Cofounder Vitalik Buterin says Meta's metaverse will fail. Meta has made two attempts to create a digital currency and both have failed. I agree with Buterin. If Meta successfully launches a metaverse, it won't be THE metaverse.
Fidelity lead macro strategist says bitcoin and ethereum are impenetrable markets. Will bitcoin miners see any relief? Meanwhile, bitcoin on exchanges continues decline. Most of us have been aware of bitcoin being impenetrable for some time, although there are a growing number of voices saying bitcoin will ultimately fail. Ethereum, on the other hand, has had its detractors touting one ETH killer or another. Could Ethereum be so strong that it will never be toppled? Is bitcoin secure enough that it will never fail? Is there a crystal ball somewhere that I don't know about?
KYC has cost Binance billions in revenue. Of course. That may very well be the goal behind it.
Why XRP is not available on Coinbase. Prospera acquires 1,632 shares of Coinbase.
Tether fights back against short sellers.
Ledger expands support for 100 Cardano tokens.
The worst places to keep your crypto wallet seed phrases.
5 charts that show what caused the crypto crash. The below chart shows a dramatic picture. When all fails, follow the money.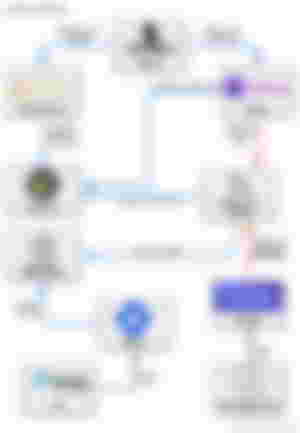 Why it matters whether cryptocurrencies are securities. This article makes some fair points, but I'd argue that it does matter philosophically whether cryptocurrencies are securities. This author's argument centers on the law as a matter of practicality. He provides bitcoin as an example, but it's a lousy example. The law is based philosophical concepts called jurisprudence, which, by definition, is the study of the philosophy of law. It's the basis of all legal statutes. Jurisprudence always determines the outcome of legal decisions. A judge makes a determination about what is legal or illegal, or how penalties and remedies will be carried out, based on how he interprets a particular statute or law. Constitutionally, there are two dominant strains of jurisprudence that runs through the U.S. legal system and that's why we've only had two major political parties throughout our history. The dividing lines between those two parties is jurisprudence and the philosophical value system that guides them. In any country, jurisprudence guides the thought processes of legislators, prosecutors, and judiciaries. So, yes, it matters philosophically whether cryptocurrencies are securities.
3 things that must happen for Web3 to take off. It will likely take a generation for the first thing to happen. Who knows when No. 3 will happen? And No. 2 will likely never happen. How regulatory scrutiny is impacting Web3 venture investing.
Aave DAO to launch collateral-backed stablecoin. We need another stablecoin like we need another market crash. On the other hand, maybe every blockchain deserves to have one stablecoin.
Tiffany & Co. make pendants out of NFTs.
You remember Terra, the blockchain? Loop Markets was impacted by the Terra Luna crash and, in May, announced they were leaving Terra and moving to Juno. Since they've made that announcement, I've heard nothing else about the move to Juno. But they've recently announced, through email, that they're launching their NFT Marketplace.
Dear Allen,

Introducing the brand new Loop NFT Marketplace!

No, we're not live yet (give us another week or so while we test in Beta), but we wanted to take a minute to teach you about the innovative NFTs which are soon to be on offer!
This is a serious WTF moment. Developers in the crypto space never miss an opportunity to amaze me with their misplaced priorities. I can't imagine moving forward with Loop any more, whether its on the Terra blockchain, Juno, or the moon, which is where crypto developers seem to be living. Probably inside a crater.

Crypto lending isn't dead.
5 things you must learn before investing in crypto.
Challenges plaguing the metaverse.
The NBA has gone all in on Web3.
Top 10 companies to apply for as a Web3 developer.
Crypto adoption is rising in Minnesota.
One Hive user talks about move2earn, listen2earn, and talk2earn. If you're earning, what difference does it make what you call it?
Israel spurs digital payments by slamming the brakes on cash.
Russia is funding war purchases with crypto donations.
Snark and commentary in italics, and nothing but love in my heart.
Cryptocracy is a decentralized newsletter published several times a week. I curate the latest news and crypto analysis from some of the brightest minds in crypto, and sometimes offer a little insightful and snarky commentary. Always fresh, always interesting, and always crypto.
First published at Cryptocracy. Not to be construed as financial advice. Do your own research.