$200M in Slumbering BTC Rises to New Life
$200 million in bitcoin that hadn't moved in years finally does a jig. Independent researcher says bitcoin price will collapse after Ethereum's Merge because it will be "regulated away." There is absolutely no way to regulate Bitcoin. It's not a company. It's not a person. It's a protocol. Regulating Bitcoin would be like regulating hopscotch. More than half of bitcoin trading activity is likely fake or non-economic, says analyst. If true, what are the implications for altcoins? Vitalik Buterin is afraid for bitcoin's future.
Traditional finance investors will love the Merge. 3 reasons ETH will increase with the Merge. What ether's big moment means for crypto. This event will usher in a new age of crypto. It's the Lord of the Rings of fantasy fiction.
Ripple is revamping its sidechains. Former SEC Director of Corporate Finance William Hinman received $9 million in profit sharing from Enterprise Ethereum Alliance while at the SEC. This apparent conflict of interest does not in any way imply that XRP isn't a security. This could backfire on Ripple.
Coinbase users in the Russian satellite country of Georgia took advantage of a mispricing mishap to profit 100 times on their crypto. Only about 1,000 customers took advantage of the opportunity, but Coinbase is looking for a way to recover the funds. I hope they don't litigate. In other news, Coinbase is incorporating fraud detection for dapps.
Binance CEO Changpeng Zhao is catching flak for his Chinese ancestry even though he's a Canadian citizen. I don't understand what being Chinese has to do with anything. Even if Binance were backed by the Chinese government, that wouldn't have anything to do with whether they provide a good service or not.
A technical sandbox called Digital Dollar Project has launched to promote the exploration of a central bank digital currency (CBDC) in the U.S. Ripple's getting involved. Nacha payments system cautions Federal Reserve to move slow on CBDC. The International Monetary Fund explores a CBDC clearing and international settlements platform. Okay, that's a mouthful.
Celsius to reopen withdrawals for certain customers.
Bnk To the Future could acquire crypto lender SALT.
Hacker gets away with $185,000 worth of Bill Murray's NFTs. I'd bet the comedic actor thinks that isn't funny.
Attorney Kyle Roche asks to be removed from several legal cases prompting Tether to request his law firm be dismissed from its class-action lawsuit. Judge in Bored Ape lawsuit threatens attorney sanctions. Legal antics never fail to surprise me. Maybe that's why I like writing about the law.
Absurdities that occur when applying existing laws to NFTs. (AN EXCELLENT READ) One NFT insider-trading trial could set a new precedent. Once again, I don't think existing laws are adequate for legislating and regulating crypto. We need a new set of laws.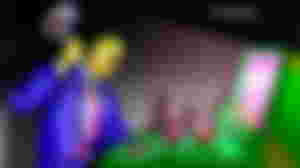 Washington to be the first state to tax NFTs. It was bound to happen. The surprising part here is that it was Washington and not California or New York.
How to grow a community with token-gating.
Animoca Brands says Web3 is just around the corner, and it could be a chance for India to dominate the world. Top 5 Animoca Brands tokens below $100 million market capitalization.
Crypto ATMs are popping up all over California.
Meta partners with Qualcomm on manufacture of virtual reality headsets.
Sudoswap announces Ethereum airdrop.
3 ways to trade crypto during a bear market. No-brainer. Are there any other ways?
5 cryptosocial media disruptors. Sloppy reporting. Justin Sun has nothing to do with Hive. Still, I'm glad to see Hive was mentioned along with Steemit rather than Steemit being mentioned without Hive. And isn't it funny that Steemit is compared to Peepeth, which launched later? For the true scoop on cryptosocial media, read the first book ever published on the subject. Much better reporting, humbly speaking.
Interest in adult entertainment NFTs has been going in and out.
British rock group Muse makes history with chart-topping album containing NFT technology.
Are venture capitalists friends of DAOs?
Video game NFTs are going green—slowly. I don't think this will increase the rate of adoption, and I doubt anyone else does either.
South Korea wants to regulate the metaverse.
Reserve Bank of India in discussions with 4 banks concerning the launch of pilot CBDC.
Brazilian Securities and Exchange Commission (SEC) takes a different approach to regulation than the U.S. SEC.
El Salvador delays Bitcoin bond based on security concerns.
Thailand's SEC creates new rules for crypto advertising.
Snark and commentary in italics. Tongue in cheek.
Cryptocracy is a decentralized newsletter published several times a week. I curate the latest news and crypto analysis from some of the brightest minds in crypto, and sometimes offer a little insightful and snarky commentary. Always fresh, always interesting, and always crypto.
First published at Cryptocracy. Not to be construed as financial advice. Do your own research.
Image credit: CoinTelegraph