Time for another impromptu article. I have one lined up in my drafts section but wasn't up to finalizing it till I thought of writing something about what I am feeling about a certain lovable creation of our Father God that is consuming a part of my heart lately.

I am known as a multiple dog owner, but a few people only knew that I love cats too. I've been feeding stray cats for atleast 3 years now. I have also rescued some newborn kittens but the longest I was able to survive one is 3 days 🥺. I had also tried rescuing a stray senior cat who doesn't want to budge in the middle of the road as if he/she wants to go on a suicide by getting run over by a vehicle. I brought it to the nearest vet and the cat died overnight. 😞 My last rescued cat was I think around 4 months old, I picked it up in a nearby park, brought it home and fed it then an hour later it went comatose and died. Again! 😭 Until now, It baffles me on what was it that I have done wrong. Because of that recent episode, it became my last straw, I vowed never to rescue a cat or a kitten. Feeding them is enough and I promised myself never to attempt to rescue them.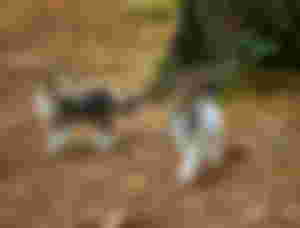 There is this male cat that I've been feeding for more than 3 years now. He just appears in the morning and in the evening just to be fed and he'll be gone. He is the reason I always have cat food on my grocery list. He is the most aloof cat I had ever met. I had never experienced holding him, he is always on guard and very cautious even if I had been feeding him for quite a long time now. I have no idea how to check a cat's gender. I am positive though that he is a male because I never saw him pregnant. I named him Meowdy, short for Meow Daddy. Sometimes if I woke up late and opened our door and see him at our main door, he would give me this frowning, demanding look as if to say "How dare you made me wait and feed me so late, you lazy servant!😅"
Let me pause this article of mine and check my phone's photo gallery if I can find a photo of Meowdy….
Okay, i found two, Here he is 🥰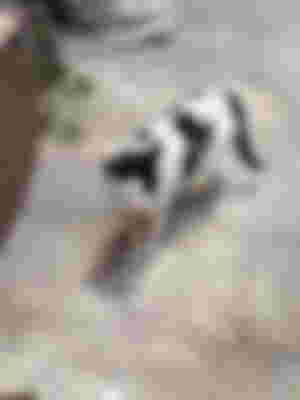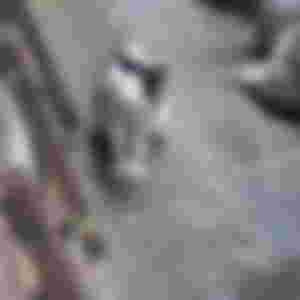 My reason by the way for naming cats even if I don't officially own them is that most of them are born strays, no owners at all to give them names, so atleast once in their lives somebody gets to call them by a specific name.

Lately, just weeks ago there is this new cat who suddenly appeared at our doorsteps. My hunch is she is a girl and was on heat and Meowdy impregnated here. (Praying I am wrong and she is not pregnant). I am 95 percent certain she is a girl because Meowdy is not scaring her away. I named her Caramel. She is the total opposite of Meowdy. Caramel is very sweet, clingy and such a crybaby who always wants attention. I began falling in love with her last week. My dogs are cat haters, just the mere smell of cats nearby will give them instant fight mode reactions. I've been feeling bad lately whenever I see Caramel attempting to go inside our house only to be halted by my furbabies. I also noticed Caramel never left our backyard. She never goes at the road like Meowdy does.

Here's me and Caramel's bonding moments:

I asked my co-advocate from an animal welfare group I belong to who is a cat lover if she can adopt Caramel and she sadly refused since she has atleast 20 cats, all rescued. I would really love to see Caramel be adopted and become an indoor pet. My co- advocate told me we can try posting her up for adoption but expect it may take some time or no one would want since most prefers kittens and Caramel is already an adult.

For now, I made a furry bed for Caramel at the little space she chose to sleep at in front of our main door. I also ordered online a cat scratch toy for her and I am so excited to give it to her. 🥰
I may be posting Caramel for adoption soon with my furvent wish to find the best cat loving owner who will keep her indoor and will give her the best cat life ever. If I can't find one, I may as well try my best to secure her most especially that she lives outside and will have her spayed soonest.
Ending this note from a quote I read online:
"Perhaps one reason we are fascinated by cats is because such a small animal can contain so much independence, dignity, and freedom of spirit. Unlike the dog, the cat's personality is never bet on a human's. He demands acceptance on his own terms." – Lloyd Alexander
Sponsors of crazybeautifulfurmom