My Weekend Report | Lunch At Bangsar South, Volunteering At Church, Dinner At Fish & Co
Hi all...today's post will be image-heavy, so I apologize if it takes a long time to load. I wanted to post this on Saturday, but I couldn't find time between my packed weekend schedules.
Since July, my husband and I have been volunteering to do devotionals for the church's pre-teens (or tweens) children. The devotionals are scheduled on Saturdays, 3-5pm, twice a month. We are not excellent teachers, but we served out of faith and knew that God supplied for our lack. However, the focus of this post is not on that, though, since we want to keep the children's privacy.
Not wanting to be late for the devotional, we decided to have our lunch at Bangsar South City. I rarely come to this side of town, but my husband frequents this place since his workplace is nearby. It was raining when we reached Bangsar South City, and I took the opportunity to snap some photos of the impressive establishments around the area.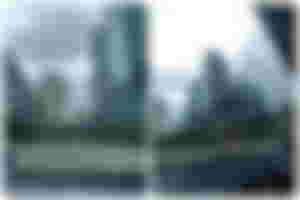 We passed by Pantai Hillpark, a well-known condominium complex in this area. I have some fond memories of this place because my sister and brother-in-law used to stay in one of the units many years ago. I took this photo of the main entrance and sent it to my sister. She was surprised to see the surrounding area with new buildings and unfamiliar landscapes.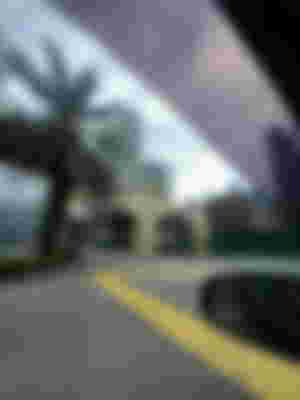 I was worried about where we would have our lunch since this is quite an affluent neighborhood, and the price could be beyond our budget. But my husband assured me he knew where to go and promised me it wouldn't put a big dent in our budget. With the inflated price of almost everything these days, my worries were not out of place.
We found a nice spot to park the car and headed to the main entrance of The Sphere (the mall), and proceeded to Aeon MaxValu Prime Supermarket. Well, my husband was right. This is the cheapest place we could have our lunch. My kids love sushi and picked whatever they needed from the sushi station before my husband made payment at the self-pay kiosk. This was the first time he had used the kiosk, and he needed some guidance from the staff.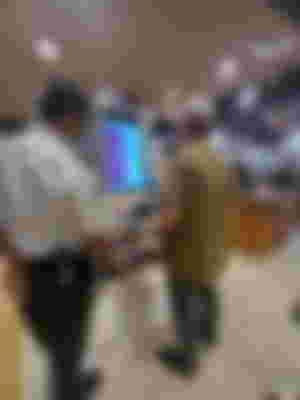 We proceeded to the dine-in area and ordered the rest of our food - pork rice and fruit salads. I am quite disappointed with the portion of the rice because, for the price of RM12 per plate, there were only maybe 6 slices of pork? And the rice was a bit too dry for my liking, but I gobbled everything up because I was famished.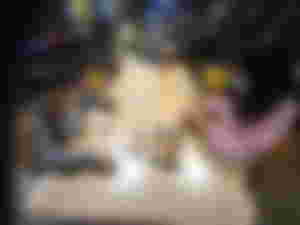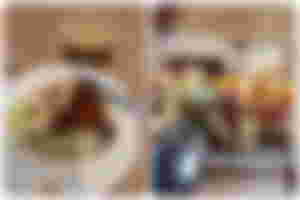 After lunch, we went to the church, which was not very far from Bangsar South City, and got ready for the devotional. We came early to prepare the room and the laptop and waited for the kids to arrive. We had known and taught these children since they were 9 years old and they were like our own children. It was a great privilege to teach and guide them in their faith, and I genuinely love to interact with them because of their endless questions and innocent fascination with everything. Like I said, we were not very good at teaching, but I believe God does not overlook our efforts...amen to that!
We had a short lesson and a couple of fun games to build teamwork and connection among the children.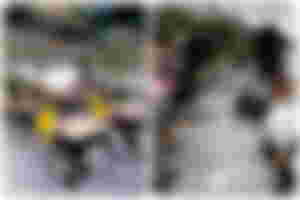 We finished the devotional at 5pm and went home in the rain. It was raining heavily, and I was worried about the flooded roads. To those who aren't familiar with Malaysia, Klang Valley specifically, this country is well-known for flash floods. A couple hours of torrential rains would produce flash floods in the city and the suburbs. This issue has been ongoing for many decades, but no viable solutions have successfully mitigated the problem. A local politician even suggested the floods become the country's "tourism attraction". What a sick idea to profit from the people's suffering and misery.
But thank God the road was clear until we reached Puchong. It was 6pm when we arrived at Puchong, and I suggested we go for dinner. We just had lunch several hours ago, and it was already dinner time 😂.
We decided to give Fish & Co a try. We had walked past this shop many times but never dined there. I figured the menu would be pricey since it's a seafood restaurant, and I was right. But we had a rather frugal lunch in the afternoon, so why not?
I didn't take many photos of the restaurant, but the menu impressed me. You can check it out here on their Facebook page.
I had a difficult time choosing because everything looks delicious! In the end, the kids opted to try the kids' portion of fish and chips.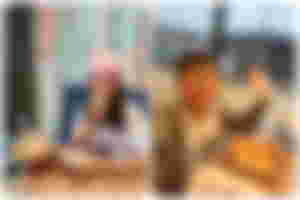 And as for me, I decided to give "Coriander Catch" a try.
Coriander Catch: White fish fillet grilled with a home blend of coriander sauce to give it an intense, healthy flavour.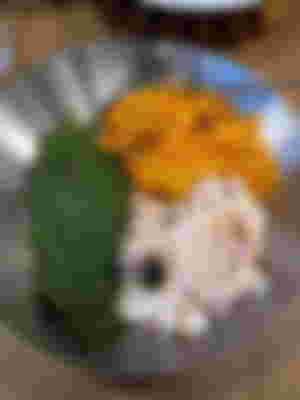 And hubby went for "Seafood Spaghetti".
A seafood medley of prawns, calamari and mussels with spaghetti in a hearty tomato pasta sauce.
And of course, we couldn't help it and added another dish to the mix - Grilled Calamari.
Calamari rings slightly charred and drizzled with our signature lemon butter sauce.
The meal was very nice and the price was "nice" too. Total spent for dinner was a whooping RM118.95. So there goes...😆
Anyhow, we don't usually splurge on stuff or food, so this was just a special treat for everyone. So that's all for my weekend report, and I hope you enjoy reading it!
---
That's it for now. If you read this far, thank you. I appreciate it so much! Kindly give me a follow if you like my content. I mostly write about making art, life musing, and our mundane yet charming family life here in Klang Valley, Malaysia.
Thank you for visiting and reading my post. I hope you like it!
My First NFT Collection – Stencil 2017 – Is Now Available On OpenSea

My Second NFT Collection – Oli Kawaii Verse – Is Now Available On OpenSea

Sponsors of coloringiship