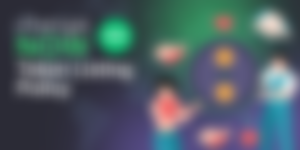 Due to popular demand, we have decided to give our partners and community an opportunity to list a token they would like to see on ChangeNOW for a listing fee, paid in NOW!
Note: The listing policy applies only for tokens currently traded on Uniswap and Pancakeswap as soon as it's integrated.
Price: 150000 NOW (if you don't have any NOW, you can buy it here)
Listing time since payment: 5-10 business days
Listing conditions:
Token is traded on Uniswap or Pancakeswap

Token has an ETH/WETH or BNB/WBNB market

ETH/BNB volume in the pool equals or is more than $100000
Please note that we can decline the listing without disclosing the reason; the listing fee will not be charged.
Delisting conditions:
Liquidity dropping below $100000 (can be listed back as soon as the amount goes back to the required level)

If the token's project has been publicly denounced as scam

Upon request from legal authorities

According to ChangeNOW's internal decision without disclosing the reason – in this case, the listing fee will be refunded.
Disclaimer: ChangeNOW reserves the right to change, amend, or terminate any of the parts of this policy or the entire policy altogether at any time for any reason.