When I was thinking today what I would prepare for today's blog post, I was guided by the fact that it was something simple and refreshing and autochthonous Slavonian,
The days are hot and steamy, the temperatures are already quite high and I had ideas about some nice, ice cream with strawberries.
And then the heat was abruptly replaced by rain. Accordingly, I change the iced dessert for something nice and warm. A piece of apple strudel, oh, yes!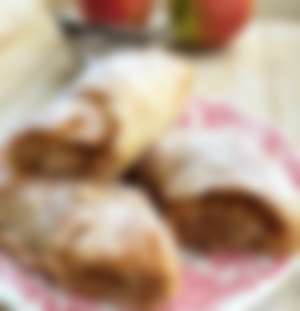 This is a strudel, made from homemade rolled dough.
Of course, my first memories of strudels are related to my grandmother. I loved watching her roll out that wonderful, smooth, thin dough, slowly go around the table, carefully remove those slightly thickened ends of the dough (thats where I would sometimes jump in to help)) and then stuff it with fine, homemade apples.
Her hands and every step around the big table were forever remembered. Eh! Her strudels were and remain the best I have ever eaten:
Strudel material: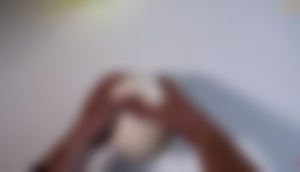 500 grams of smooth flour, 260 to 300 ml of lukewarm water, 1 tablespoon of vinegar, 3 tablespoons of oil, a little salt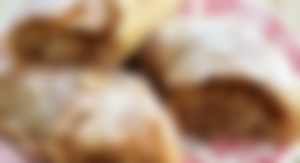 About 1 kg of sour apples, 4 tablespoons of sugar, 2 vanilla sugar or bourbon vanilla sugar, cinnamon, optionally a handful of raisins soaked in rum, a little grated lemon zest, if necessary a little bread crumbs if grated apples release a lot of juice, butter.
Knead a smooth dough, form it into a ball, flour the base a little and leave the dough covered with the bowl in which you kneaded it. Let it rest for about an hour or two.
Sprinkle the tablecloth with a little flour, put the remaining dough in the middle, roll it out a bit with a developer and grease it with oil, then leave it to rest for about 15 minutes.
Wash, peel and grate the apples, then add the apples and other ingredients for the filling. If you use sweet apples, reduce the sugar and add a little lemon juice.
Roll out the thin dough by gently pulling it with the palms from below and towards you (and so walk around the table for a while, when you have stretched it enough, remove the thicker ends of the dough.
Drizzle the dough with melted butter and let it stand for a few minutes). about 2/3 on two opposite sides of the table.)
Using a tablecloth, wrap two strudels, one towards the other, cut the dough in half and place the strudels in a baking tray lined with baking paper (and spread a little butter on it), coat the strudels with a little butter and place in a preheated oven, bake at 180-200 for about 30 minutes.
Towards the end of baking, take out the strudels, coat them again a bit and return to the oven until they get a nice color.
I hope you like this recipe and for the next blog I am preparing more Slavonian delicacies when it comes to strudel.
Apple strudel, this strudel comes with the addition of semolina. You can replace apples with cherries, plums or some other fruit to your liking, each variant will be even tastier than the other. Quick and easy, the strudel with apple and semolina is a real hit on the table and my favorite dessert