The Story Of How I Become Cold With My Own Brother
This article was inspired by our recent argument this morning. I've just had enough and thought of just writing it down here so I could at least relax my mind. I know this may sound unfair to him because he's not even here to defend himself but everything you guys are about to read is based on true events. No lies but just pure real sh1t.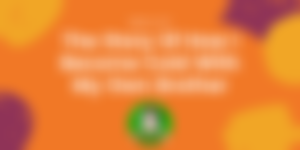 My brother and I were once closed when we were kids. We used to pretend like I was the big sissy and he was the youngest. He liked to be taken care of while I liked to be the one who watched over him as the younger brother. That was probably one of our favorite bondings back then; however, as we grew older, we started to see the differences that led us to go on our separate ways.
Just like the typical brother-sister relationship, who fights like cats and dogs, my brother and I are also like that. During our younger days, there was no day that we don't fight over simple childish things. Sometimes my mom would be so mad she would cry in front of us, and that was the only time we would stop. Now, although we don't fight like that very often, we still argue once in a while and sometimes, one of us would cry.
I don't hate my brother, but there were just so many incidents wherein he crossed his boundaries. If I would state everything in here, I might need to write another page for that. It's just so many that I already lost counts. Well, in this article, I will just state those incidents that really broke my heart, made me cold with him, and wished I could just swap him to something else.
I couldn't recall exactly what it was that we argued for, but all I know was he punched my arm that the next day, it was totally purple. I think he didn't hit me so hard but you know, women have sensitive skin so what's mild for you could be intense for us. I didn't tell my dad about it right away coz I know he would be furious but after a year, I told him about the incident, and he confronted my brother.
That was the first time that he did that to me. I was scared of him at that time and realized that he could actually do more than that if ever I won't shut my mouth. So after that incident, I learned to shut up whenever the argument would heat up.
When I first lived on my own in Cebu, that was the moment I felt freedom. Then when I heard that my brother was living in a not-so-nice room and barely ate proper food, I felt sorry for him, so I offered him to stay with me instead. At first, it was doing smoothly, no arguments, just enjoying the company of my brother.
I was the one who did most of his laundry. I usually did my laundry in the middle of the night while the rest of the boarders were asleep so I could concentrate and no interruptions were needed. Sometimes, I would ignore his laundry to teach him a lesson to manage his time right but nah, even if he had only 1 clean shirt to wear, he won't even take the time to do the laundry. So as someone who doesn't like too much mess, I ended up doing everything for him.
Okay, I was a quite nagger too. You can't blame us, ladies, to nag though. I mean you can't expect us to do all the house chores while you stay up all day chilling as if you paid someone to clean up your own mess. So one time, I asked him to help me out with the laundry and told him to hang those clothes for me as I could no longer raise my arms after doing 2 baskets of his dirty clothes. He didn't listen and told me to wait. He was just watching YouTube at that time, so I got mad after several beggings, and then the arguments started to heat up.
So I told him to leave my place and go find somewhere else to stay as I could no longer continue this kind of setup. It was nighttime when it happened but instead, he threw some of my things. He told me that if I was no longer happy, then I should be the one to leave coz there was no way that he would. I was crying and started packing my things. The worst part was he told me I won't survive alone. I was so ready to leave, but then it was already too late so I came back to my room.
A few days after that incident, I moved out without telling him I would leave. I didn't even tell him where I would go, blocked him so he won't find me, but he knew where I used to work so he would still visit me there to ask for some allowance. Oh, at that time, he wasn't married yet.
It was my niece's Christening but didn't get to attend because we (again) argued. He was so mad that he threatened me with a knife. I just stopped arguing but continued crying until I fell asleep. This wasn't the first time though. There was another time when he tried to sell me vitamins. Me, I don't really take vitamins or medicines not unless it was something serious like a severe headache or toothache.
He was so upset I didn't want his vitamins coz those were pretty expensive too. I find it not worth it to spend so much on the vitamins when you can just eat veggies. Out of his desperation, he got mad and threatened me again. After that first knife incident, I got scared of him coz I knew he could kill me instantly if he wanted to.
Although he has a decent job that pays well, he always got no money in his wallet, even before he was single. Back then, I told him how to save money so he could ensure that he won't starve himself. Just like the other irresponsible people, they would tell you they would, but they won't even do it. So even if worked as a customer representative in one of the big companies, he was still broke and would ask me for money weekly. Even if I won't say yes, he would still make me say yes in the end.
He also looked highly of himself. He was a CSR, but I was just an encoder. My pay was 5x smaller than his. So whenever I made suggestions, he would tell me I was just an encoder who only got 1 job for years and get paid at a minimum rate while he had so many experiences. He made me feel like I was worthless, but then at the end of the day, he was the one who begged for money and not me. Even with my little salary, I got to save almost 70k PHP for 2 years, and he has nothing.
He quit working in the city and work home-based with 3 different clients. He has a 9-year-old son and his wife is a registered nurse. The wife and son are staying with the wife's parents while my brother stays with us most of the time.
Knowing my brother, I know he would soon move to my house coz our eldest sister doesn't like him too coz he's so unorganized. And it worries me coz he might be bossy again in my own house. I don't like him bringing all his stuff without organizing any of those. He occupies a lot of space because most of his items can be found everywhere. I also don't like how he orders online without the money but sometimes, we end up paying it for him.
Oh, he keeps complaining about how my furbabies bark a lot. Lol. I mean what do you expect from a dog? Dogs are supposed to bark whenever they see something suspicious, or they don't like what they see. So I just hope he won't live with me because I might turn into a beast again if ever.

The only thing that I admire about him is that he doesn't give up easily. He's good at getting clients but the problem is he can't sustain the demands because he is a bit greedy. He wants to have more clients to earn a lot but couldn't comply with their demands.
Nevertheless, I wish him all the best in life so he won't keep coming to mom asking for money again and again. So he can finally have their own place to live as well like a real family with his wife and son.
Entry #9: December 13, 2022
---