This afternoon, around 3 pm, my sister had woken me up from a quickie nap just to tell me that Kiara was dying. So I got up in bed right away, went straight to the living room, and there she was, lying down with some watery stuff around her. I came next to her, brushed her fur with my fingers, called her name while seeing her slowly breathing. I was devastated seeing such familiar sight, but I knew that the end was near. I continued brushing her fur, held her paw, and told her that it's okay to let go.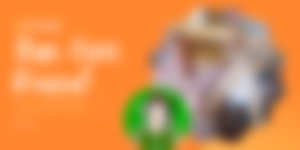 I know she's too young to leave us, but I'd rather cry seeing her go than see her alive but in so much pain, struggling to live. A few minutes later, she stopped breathing. I doubled check her heartbeat, hoping that she was just sleeping, but there was none. When I told my niece, she went straight to their room and cried. I was in pain but stayed strong coz I don't want them to see me cry.
So I told them to get ready so we could put her on final rest. I didn't come with them as I don't want to see her like that. I am not ready yet. So I asked my nieces and sister to do it on my behalf. I stayed in my house just to disinfect the entire house (again). This is to secure that none of the other 2 furbabies would get infected. For those who didn't know, Kiara died because of distemper, a contagious disease that could also harm the other dogs even if the host is already dead.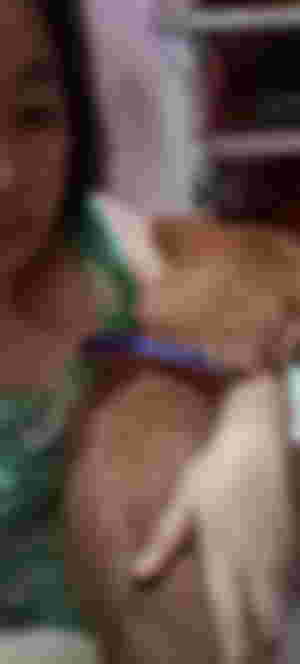 I disinfected the house twice and will keep disinfecting this for the next 2 weeks just to make sure Kiah and Maki will be safe too. While doing so, I kept imagining Kiara and how she used to walk in the living room while I would mop the floor. And more memories kept coming, especially when she was just a tiny pup.
Kiara was the youngest among her other 3 siblings (1 was born dead). Out of the remaining 3 pups, only Kiara was born brown while the other 2 were all white. They were born on April 25, 2019, and since it was during summer, I moved them to my sister's room so they would enjoy the AC during the afternoon and at night. The routine lasted for a couple of weeks until they started to crawl. That moment on, we decided to move them to my room coz my sister doesn't like the idea of them crawling on the floor.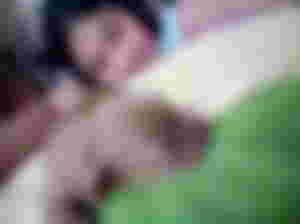 When they learned how to walk, they would go next to my sister's room just to feel the cold from the AC. Fortunately, their door has some kind of a hole on the bottom so they would all stay there to get the cold air. Kiara was probably the 2nd top fluffiest of all 3 next to Nala (now named Aika). She was very quiet and doesn't want to play with her siblings. She was also her mom's least favorite of all.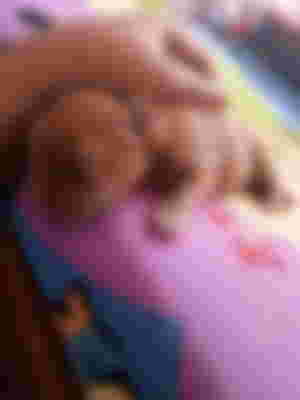 Kiara was supposed to be rehomed because when she turned 3-months-old. She was just so cutie and very fluffy that I know many would want to have her. But when Simba died when he was over a month old, I decided to keep her instead while Nala was sold to our neighbor. When Kiara was still a not-so-pup, she was also a bit grumpy and naughty. I think being naughty is normal for any less than 1-year-old pups because they all just want to play and munch everything all day long.
When she started to grow bigger, her momma began to enjoy her company and the two became best friends. They'd love to play all day, chasing her and there but when Kiah gave birth to Maki and Kali (now named COVID after we rehomed her to another neighbor), Kiara's attention shifted to Maki. This explains why Kiah doesn't like Maki much coz he was the reason why Kiara's attention was diverted. Fast forward and the two became inseparable.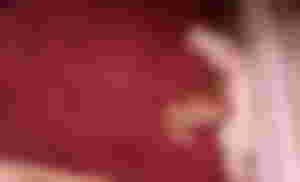 When they became adults, my sister told me to put them on a leash to make sure they won't leave the gate. This is to secure them against possible accidents or getting attacked by the other dogs. And this made me so sad because the two got infected even if they were just in our house. First, Maki had those wounds that I had no idea how he got those. Then after Maki, here comes Kiara.
If there's one person that I should blame for all this, that should be me. I blamed myself for being too busy on Discord that I failed to monitor them. I did notice Kiara was starting to sneeze nonstop but I didn't check this online. I could have avoided the disease if ever I googled it right away. I could have given her the necessary herbals just to prevent her from getting infected. I could have saved her if only I was being attentive to the first signs. Now, it's too late to undo everything. The least I can do now is to make sure to monitor the others. Be sure that they are given the vitamin C + Zinc every single day while the other furbabies need extra care since one of them got cough.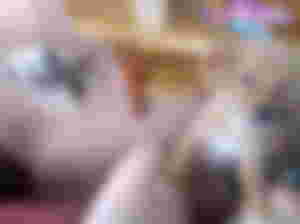 My only wish is that I hope they won't get infected, especially Kiah and Maki, since these 2 are staying under one roof with Kiara. So far, I don't see any signs yet (thankfully!). Nonetheless, I won't stop disinfecting the house for the next 2 weeks and ensure they take their vitamins on time. After 2 weeks, if none of them got the symptoms, I will take them all to the vet for vaccinations. Unfortunately, only Kiah, their momma, got the complete vaccine when she was a pup. She stopped getting the vaccines, though, when I moved her here in my hometown coz there was no pet clinic her until just recently.
So once they're all safe, I will make sure that they will get all the vaccinations complete. All of them and will keep updating it on time. That's the only thing I can promise to Kiara, keeping her pack safe too.
I will miss you, Kiara. I will surely miss your cuteness, the way you walk, the way you eat, the way you run whenever I called your name, the way you chase your momma, and everything. You're maybe out of sight but definitely not out of mind coz you will always be in my heart.
Love you, Kiaradiding.
---