We've just bid goodbye to September and now, time to get ourselves ready for what's coming ahead of us this October. I know most of you are excited and is ready to beat your previous record, and so do I. Although I doubt if I could beat mine, I just hope it's as good as my September even without the upvote from Sir Marc.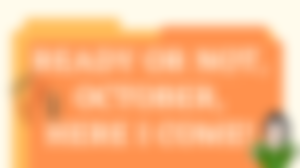 Of course, it would be nice if there is but it's not always a lucky day, so I'm not going to expect that. In short, I hope I can still gain at least $500 from both platforms. You might be wondering about my plans or goals this month. Honestly, I don't have any new plans or goals. I'll just stick to the usual and for those who are new to my page, let me share with you my usual monthly goals.
Consistency is one of the keys to become a successful writer on this platform. You won't earn much if you keep slacking. I know we have busy days and, not to mention, lazy moments that prevent us from publishing anything. But if you really are aiming to earn more BCH, you need to work hard to achieve that.
I know it's not easy to come up with a topic to write about every day. Even I and the professionals would experience writer's block issues, and it's normal so don't be hard on yourself. However, if you have goals, the least you can do is to at least try and publish as much as you can. So that has been my goal these past few months. If I can't publish one, then I need to write two the next day to cope up with my absence.
I used to post more than 6 a day back then. This occurred when noise.cash wasn't that strict yet. But gone are the days when everything is about posting. Now, I only do 5-6 posts a day with at least 3 hours intervals. The lesser you post, the higher your heart-tip value gets.
If you're new, don't expect too much. Even if all your posts are written well with perfect images, and you follow the rules and everything, there's no assurance that you could earn huge in just a short time. Keep in mind that the number of subscribers you have can also make an impact on your earnings. Unless if the majority of your subscribers are spammers and violators, then don't expect too much.

That's it! I told you, I don't have new goals, but I will just continue my usual routine and hopefully, I can still accumulate more BCH for this month.
As I've mentioned before on noise, all my earnings from read.cash will be converted into peso by the end of the month, so I could use it to buy some materials for the house. My noise earnings, however, will still be distributed for my HODL and $3 BCH a day challenge wallets. This is to ensure that I still have something to HODL for.
---