Time flies so fast, and the once newbie is soon to become an official 1-year-old user on this platform. Being able to be on this platform this long and still getting upvoted is already an achievement for me. It's something that I can brag about to my friends because not all old users have survived this long.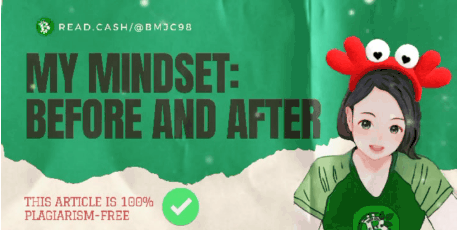 Although I must say that there are some changes going on, I am still grateful for everything that's happening to me. And I have also noticed that my mindset now is a lot better than before. Let me explain a little further, so you'd fully understand what I was trying to say here:
Before - Whenever the bot wasn't around to visit my previous articles, I would take a day off or two before publishing any. I used to do this to ensure that the next article that I will publish will receive more love from the bot.
After - After being a user for almost a year, I learned to accept the fact that the bot was random. That it comes and then, it goes. So instead of waiting for him to visit me again, I just publish one article every day no matter what.
For me, it's no longer just about the earnings, but it is also the fulfillment that I get every time I have something to publish daily. Now, I don't worry anymore about the hot being missing in action, I just choose to continue doing my daily routine, and that's to publish one article a day.
Before - I used to be sad whenever my articles didn't get enough love from the bot. I felt like my worth wasn't compensated enough. I felt like I was undervalued for the hard work I did. Thus, resulting in sudden mood swings that led to a few days of absence.
After - I learned to just move on and adapted PVM's mindset towards the bot when it comes to upvote. If you have noticed, PVM is consistent in publishing several articles every single day. Some of his articles didn't get much from the bot, but he never complains. And for me, that's the kind of mindset we should learn.
If you're too focused on the earnings, sooner or later, you'll find yourself demotivated because of the bot. You may not experience it now, but you will eventually just like most of us. If that happens, I'm sure you'll find yourself asking, "Is it still worth it?"
Before - I am not a perfect writer. I have my weaknesses, too, and this includes being envious of other writers. I don't want to be a hypocrite, so just like some of you here, I also get upset whenever I don't get enough attention while others were receiving more.
I wasn't upset that they were getting huge upvotes, I was upset that the bot didn't find my articles worthy of his time. I felt envious because they know how to make the bot happy while I don't.
After - As time goes by, I just learned to focus on publishing articles and just accept whatever amount I will receive. I learned to accept that any amount is still and will always be a blessing. So whenever I see someone getting $20, $30, or $40 even if they are new, I just don't feel envious anymore. I just continue doing my thing.
Before - I used to focus on saving more BCH to myself. Yes, I upvoted users but not as generous as I am today. I used to only upvote $0.01 before per article. Well, you can't blame me because I barely earned much before. This was the reason why I rarely upvoted their comments too.
After - I am improving as I upvote at least $0.05 per article and if the article I'm reading touches my heart, I simply gave more than the usual. I also upvote at least $0.02 per user's first comment. I learned to do it from @Jane. Although hers is $0.05, I stick to $0.02 as I don't even get much love from the bot.
Aside from that, I am also sponsoring probably more or less 50 users. Again, the amount is not that much, but I'm starting to update the sponsorship from $0.05 to between $0.10-$0.25, depending on how active they are to my articles. I can't afford to sponsor more because I also need to secure something for myself.

As my account is getting older, I feel like I don't get much attention from the bot. It's not just me, I know some who also experience this kind of issue, mostly from the old users.
Maybe the bot is just giving the new ones enough funds to HODL as we, old users, have been blessed for quite a long time already. Despite the situation, we remain to be faithful and loyal to the bot.
Yes, the bot may be absent to us very often, but I know, we know, that it will come again with a huge surprise. He always does.
And to @PVMihalache, thank you for always being there for us. Your wisdom has now become my strength. I don't sugarcoat this to flatter you, but I mean every word I say. You always inspire us to do the best version of ourselves, and I will always be grateful for that.
You and @Crackers (I have to mention Crackers, so he won't feel left out again. Lol. I'm just kidding. Craig knows he's one of my favorite persons on this platform.) are my favorite male friends because you two are very kind and generous to me. So thank you to the two of you.
PS: I wonder why I sound so cheesy today. Mmm. Okay, I think I'll be on my red days soon so hormones are kicking again. Lol. Forgive me. I'm just happy.
---