Honestly, I have so many things to write about, but they are just so many that I lost track. LOL. But since I've received my 4th Affiliate Payment today, then why not talk about them instead.
Honestly, I didn't know I had 4 affiliate payments until I saw it on my notif. I immediately searched for it and was so amazed when found 4. So, below are my earnings from my invites.
As of 09-08-2020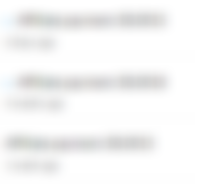 Where to find your referral link?
Honestly, I don't know where to find it. I did see it before, but I just couldn't remember what article or pages it was exactly. But don't worry, there's a very easy way to know your referral link. I had figured it out myself when I decided to invite my first affiliate here.
So here's your referral link (just add your username after the last /):
https://read.cash/r/_____ (your username)
example: https://read.cash/r/bmjc98
Anyway, I started inviting since 3 weeks ago. I had invited my virtual friends here first before I decided to invite others. Since then, I have recruited a total of 33 affiliates, and hopefully, they will grow more. Unfortunately, out of 33 affiliates, 15 of them are not posting anything yet. That means if they don't post a thing, they won't earn anything, which also means I won't get anything from them.
So if you're thinking of inviting your friends, be sure that they don't just want to earn extra money, but are also a fan of writing to make sure they will survive here.
Below are some of my other Read.Cash topics you might want to check: