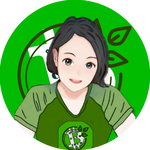 I first read this prompt from @Eybyoung's I Got Tipsy But Never Drunk to @Yen's The drunk lady I had become to the master behind this challenge @OfficialGamboaLikeUs 's "When I Was Drunk" (Re-edit: Additional Story). Since I had a few memorable experiences to share, I immediately decided to join the fun. You are free to participate but be sure to tag OfficialGamboaLikeUs, so she would get notified of your entry. Now allow me to share my stories here.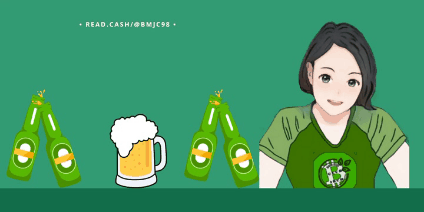 I was probably in my early teens when I tried beer for the first time. It was a fiesta in our barangay, and we had so many visitors at that time. My eldest brother, who brought a friend, went outside drinking with his guests. As a curious little girl that I was (yes, I still looked like a little girl during my teenage years), I asked my brother if I could try one.
He then gave me 1 bottle of beer, went back inside the house, and started drinking. The taste was bitter and though I didn't like the taste, I still managed to drink half of it. Then I got tipsy and started laughing so hard and talking nonstop. After a few minutes, I went off to bed to sleep. The next morning, I had my first hangover and got a fever too. After that first incident, I vowed to never drink again.
When I was in high school, my classmates would invite me to join their drinking session. As someone who had a bad experience with it, I would always say no to them until the day we graduated.
The night after the graduation, we went to our valedictorian's place and had some fun. There were many foods and drinks too. Then they kept asking me to take a shot coz that might be our last time to have fun together before we'd be out for our next venture in life: college. As someone who doesn't want to be called "killjoy", I tried a few shots and was done. Luckily, I only got tipsy for a little while and was able to go home safe.
This time, I was already in Cebu working. I don't know how it all started, but I remembered I began drinking with my male friends after our graveyard shifts. I was one of the boys, and my male friends were like my extended family.
After the shift, we would unwind outside the building and enjoy the company with each other by ordering pizza and cold alcoholic beverages. I would choose the SanMig light with a fruity flavor. Sometimes, when we felt drunk, we would go to a nearby 7eleven and buy liter of ice cream before going home. Yes, this usually happened in the morning. Since then, I have enjoyed drinking and would drink 2-3x in a month.
Sometimes, when we don't have much workload to do, and the manager would allow us to leave at 4 am, my friends and I would hang out again and play billiard. I don't play, but I would try it for fun. Of course, billiard means drinking as well.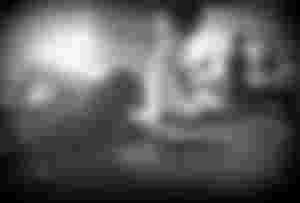 I was always with my male friends even if I was the only girl in the group. I trusted my friends because we've been friends for years, and most of them are in a relationship and married, so I knew I was in good hands.
There were times when they talked a lot and the glass would take so long in their hands. Yes, we only used 1 glass. Lol. So whenever that happens, I would tell them to hurry up, so I could take my turn. Sometimes, whenever I got tipsy, I would get 1 bottle and drink all of it myself. When I get tipsy, the taste was no longer an issue to me.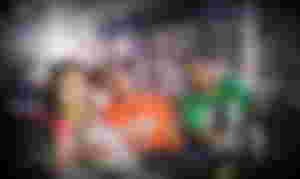 Good thing my friends would take me home safe and sound. Yes, that's what I love about them. They never take advantage of me, and they treat me like their youngest sister in the group. They were bullies, but I know they were the kinds of friends that I could rely on when things didn't go well.
I always got tipsy but never made a scandal for myself. I mean no crying, no screaming, no puking (not yet), and just purely laughing nonstop and speaking in straight English. Oh, and I would grab 1 bottle so I could drink it without having to wait for my turn. Lol.
So anyway, this happened in May 2021 when my high school classmates decided to meet up and so we did. It was just 5 of us, 2 gals and 4 guys. We met at KFC - IT Park and ordered food first. After eating, we decided to go to a nearby place where we could enjoy music and drinks. They ordered Mojitos and a few others. Not sure if that was my first time since I just drink whatever my friends offered me. Lol.
After a few shots, I started feeling high. I started laughing and talking. Until my friends decided to go to a disco bar. Honestly, that was the first time to go in such a place. I don't dance, but I tagged along because they asked me to. When I got there, after just a few minutes, I realized the place wasn't for me. I don't like the red, blue, and green lights. It only gave me a headache and the smell of cigars made it worse.
So I told my friends that I need to leave. The 2 male friends accompanied me out and find me a taxi. I bid goodbye to them after. I was sitting on the front seat and made sure I won't fall asleep. Since I was drunk after so many different drinks we had, I tried to stay conscious by talking to the driver. The driver was not old. He's probably in his mid-30s I guess.
So I talked to him and told him not to drive me in the wrong direction coz my friends already got the plate number. The driver was just laughing. I think he enjoyed our convo and sent me home safe and sound. When we arrived, I thanked the driver for taking me home on time and got of the taxi. That's when the injury happened.
When I was already out of the taxi, I slammed the door not knowing that my thumb was on the doorway. I slammed it so hard that made me scream so loud but in a soft voice due to being drunk. I then cried that the driver came out and was worried about me. I cried like a baby and told him I injured my thumb while showing it to him. It was so painful that I didn't stop crying. He then offered to take me to my apartment, but I said no.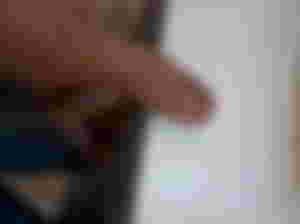 Good thing, the next morning was my day off so I don't have to work. Things went from bad to worse when I could no longer raise my arms. Yes, my head hurts too. I also had a stiffed neck. I couldn't move my arms that even taking a pee was impossible for me. At that time, I had a boyfriend so I asked him to come over coz I don't know what to do. Good thing he came and helped me with everything. Don't ask what everything means. 😁
The next day, I had to file 2-3 days of sick leave coz my arms were still impossible to move. Of course, I didn't tell them that I got drunk, which caused me all the body pain and swollen thumb. At least, my ex was there to help me out and feed me like a baby.
It's not really my first time since whenever my dad would ask me to throw his cigar, I would try it first before throwing it in the garbage. However, this particular day was different since it was a new one.
It was my birthday, and I was with my colleagues. I think there were just 2 girls in the group, then we had 1 or 2 lesbians, and 3-4 guy friends. So after work, we went to church first to lit a candle and say my prayers. After that, we went to a place nearby, and that was my first time there. There I saw minors in their school uniforms, smoking and drinking with their classmates.
The moment I saw those kids, I felt very uncomfortable coz they weren't supposed to be in such a place. That was the time I realized that I'm officially an adult because I don't like seeing minors drinking, smoking, and even making out in public.
So my friends and I were celebrating my birthday. After a few hours, I got tipsy and the lights, not as worse as the previous one I mentioned, were making me dizzy. The place smells cigarettes all over because of the smokers. Then I asked a friend if I could try it, and so I did. I tried it because being a second passive smoker is more dangerous than the person who smoked.
However, the smell and the taste weren't appealing to me so I threw it out. We were there drinking a lot and after how many hours, I told them that I had to go home. I managed to get home safe and sound.
And here's a good story on the 24th of January 2015 that had changed my life for the better.
So one of my lesbian friends was in the mood to drink. After our 2 pm shift, we went to our favorite place again. I was with 2 lesbians and 3 guys. When we arrived, we found a good spot to sit. While talking and drinking, we were also busy playing COC or Clash of Clans.
I think I only had 3-5 shots when I felt dizzy, and so I transferred to another spot where I could lean my head on the wall. I closed my eyes, and the next thing I know, I was drunk. I think I fell asleep when I closed my eyes coz I noticed it was already dark. I started drinking again and after a few shots, I asked my closest lesbian friend to help me go to the restroom and secured the door for me.
I went inside to pee and fell asleep again. My friend was worried so she managed to open the door. I had no idea how on Earth did she open the door when I actually locked it. There, she saw me sleeping while sitting on the toilet. She woke me up, and I think she helped me pulled my pants up. I started mumbling and when I got back to my chair, the happy self started to kick in again. I started laughing and talking sh1t. Then they made fun of me by asking questions like do you still know me, how many fingers are these, etc.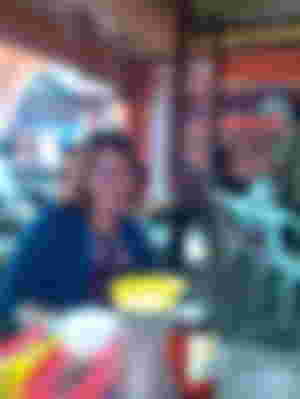 I even grabbed another shot coz they were so slow and started drinking again. Then I was so drunk that I started to throw up. That was my first ever to throw up in the public. They even had to ask someone from that place to clean my area and luckily, someone did. After that, they ordered instant noodles, and it was so hot but because I was so drunk that I couldn't feel a thing. The funny part was, because I was leaning on the wall, while my friend was feeding me with that instant noodles, she placed the cup in my chest. When I noticed the burning sensation, I cried slowly and told them that it was freaking hot.
They were laughing so hard at how I say it. They said, I was like a child crying. Lol. There were guys at another table who was staring at me and probably thought I was broken-heartened. After that, they let me sleep on the couch. We were supposed to leave early coz the married guys had to go home, but they never left me. That's how blessed I am having them. When I woke up, I felt so alive had and no more hangover. They were even shocked when I told them we need to go.
And oh, while I was sleeping, they got panic so they contacted our colleagues coz they were afraid to send me home like that. So they were hoping that I could spend a night with someone they could trust. This means there are many from my office knew I was drunk. But when they saw me in good shape, they just laughed. So yeah, after that, we went home and my closest male buddy accompanied me. We took a taxi and the driver thought I was his cousin.
Now, here's the part where everything changed. The next morning, I got the worst hangover ever. I felt like my head was about to split in half. I was sleeping the whole time but every time I woke up, everything around me was moving. My sister was there, but we weren't closed and she doesn't even care. The next day, I felt the same and called the office to file a sick leave. I also asked them how to contact an ambulance coz I think I need to go to the hospital.
A few hours later, 2 male friends from our session came in and told me that they would take me to the hospital. Yeah, they were told by our QA to help me out. So we went to the hospital and the nurse started asking me like when was my last menstruation period etc. And as some single for months at that time, I didn't bother tracking my period so I just told her that I was not sure. But I insisted that I was 101% not pregnant and never had any contact with men.
Still, she asked my friend to buy a pregnancy kit to make sure whether I was pregnant or not. I was like, "what a waste of money." A few minutes later, they went back to the office were, and I was left alone. I was there in my bed alone and was so cold. Turned out I got a fever and UTI. I was also in pain and vowed to avoid drinking.
Oh, the reason why I got drunk after a few shots coz prior to that, I only had oatmeal for breakfast and lunch. Yeah, I was on an oatmeal diet at that time and no other heavy meals.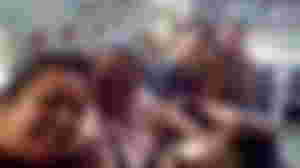 One of the random drinking session with friends. The one sitting next to me was the same person who helped me in the restroom.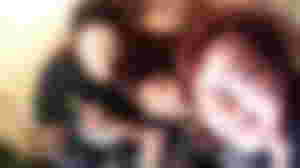 Same friends. This was one of the many after morning shift hang outs. We enjoyed this moment because I got to sing even if singing wasn't my genre.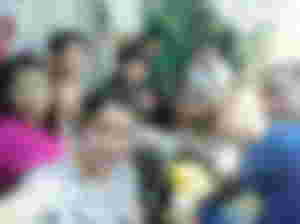 With the whole gang during the christening of my best budd's youngest son.
So there you have it, my unforgettable drinking sesh with friends. I had quite a few but let's just focus on the most memorable ones. I considered it bad since drinking alcoholic beverages was a no-no to me. Not because I was allergic but because my mom doesn't want me to for my safety.

After the last incident, I still had a few drinks but not to the point that I would get drunk. Since I live here with my fam, I don't drink anymore. I don't like the taste of it and no more drinking buddies too.
So what are your unforgettable drunken stories? Don't hesitate to share it with us by commenting some of it here or better write your own entry. And remember to tag the master behind this.
---